sitemap
drawings
paintings 1 2 3 3 4 5 a b c -
- A B . . . . . . . new
installations
projects
reviews
---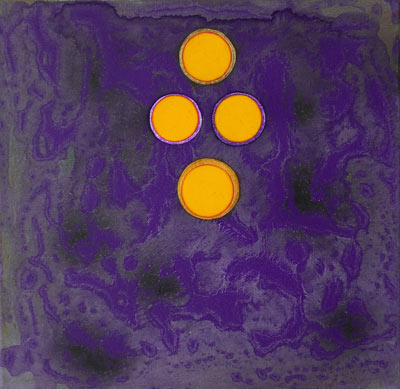 Olga Rudge (1895-1996)
2012, oil on canvas, 28×29 cm

Olga Rudge (1895-1996)
---
Ezra Pound and Olga Rudge - The Last Ten Years
Olga Rudge and Ezra Pound - The Last Ten Years (Part 1)
Anne Conover
The Last Ten Years (1962–1972) (Part 2)*
As a hostess gift, Valerie brought a pair of shoes, to Olga's eyes the act of a warm and caring person. ''May I say how much I admire[42] the way you take care of Ezra . . . so sweet and patient with everybody, no matter how tiresome they are,'' Valerie wrote after returning to London. Back in ''Ezra Pound's Kensington,'' she was reminded that ''we had our wedding breakfast at 10 Kensington Church Walk where Father Wright, who married us, lived.''
On the fifteenth, the couple celebrated again—at Harry's Bar, then luncheon at Torcello. When Olga asked Ezra what historic character he would have chosen to dine with, his answer was ''Chaucer.''
On May 11, Olga awakened Ezra early to catch the train to Rome. Another hour to the Citadella, where he was to sit on the platform for the awarding of the Premio Letterario. Ezra was silent, but the poet Olma read from Mary's translation of The Cantos, a ''very moving'' event.
Their busy schedule continued until June 4, when they left their Venice garden at 1:45 p.m., arrived at JFK Airport at 8:30 the same evening, and went directly to the Hotel Schuyler on Forty-fifth Street, a hotel Olga had used in the past, apparently unaware that the neighborhood had gone downhill in the fourteen years since her last visit. James Laughlin was surprised to hear they were staying there; he did not even know they were coming to the States.
Ezra had been invited by Mrs. Hugh Bullock, then president of the Academy of American Poets, to attend the academy's thirty-fifth anniversary in the board room of the New York Public Library and the presentation of a fellowship award to Richard Eberhart. Valerie Eliot was at the library editing a new edition of The Waste Land, which included Pound's extensive annotations, and joined Marianne Moore, Robert Lowell, Margaret Cohen, Lewis Freedman, Norman Holmes Pearson of Yale, and Ezra, who ''would arise in a most courtly fashion to shake hands when any admirer came up to speak to him.''


Calle Querini near Rio Fornace canal on Dorsoduro, Venice. The Home of Ezra Pound and Olga Rudge.
The following day, the couple drove with grandson Walter de Rachewiltz, then studying at Rutgers University in New Jersey, to Norfolk, Connecticut to stay with James and Ann Laughlin at Meadow House. Laughlin was to receive an honorary doctor of letters degree from Pound's alma mater, Hamilton College, on Sunday June 8. Olga, Walter, and the Laughlins drove to Clinton, New York, for the commencement. As Laughlin described the event:
Because they thought the academic procession might be too
long . . . they gave him a special entrance from the side . . . very
dramatic. There was a silence, and the audience began to get
restive, then Ezra entered, led by the master of ceremonies . . . with
his stave, and when the president introduced him with a graceful
little speech, saying that he had had his own Doctor of Letters
there thirty years before, there was a tremendous standing ovation
from the students. Ezra looked beautiful in his academic robes, and
sat on the platform beside me.
They drove back to Manhattan on Monday and settled in at the Laughlins' Bank Street apartment in the Village. Ezra was up every morning at seven o'clock, taking a hot bath and shampooing his hair without complaint. ''Each day, Olga worked out some little project for him,'' Laughlin remembered. ''When they were not invited out, I would have little dinner parties for them at the Dorgene Restaurant opposite the White Horse Tavern in the Village. Ezra barely spoke, but he followed conversations.'' At another dinner party honoring Marian (Mrs. E. E.) Cummings, Robert Lowell read from her husband's works, and Lowell and the others went back to Bank Street after. Valerie Eliot and Djuna Barnes came on Djuna's birthday, bringing champagne. Ezra was ''stimulated and brilliant,'' Olga recalled; ''[he] takes the ladies downstairs (in slippers).'' They also called on Marianne Moore, incapacitated and in a wheelchair, at her charming but cluttered Brooklyn apartment.
Walter drove his grandparents to Germantown to visit Priscilla and Esther Heacock, the Quaker sisters whose family, Ezra recalled, had owned a floral business on Fernwood Avenue when he attended the Chelten Hills Dames' School. The sisters were long-standing friends of Olga's Aunt Lou and Uncle Harold Baynes, the naturalist; Esther herself had become an accomplished photographer of birds. Surprised to see that Olga had taken Dorothy's place, they conceded that ''she has evidently cared for him[43] for so many years.''
The next morning, Olga flew to her birthplace, Youngstown, Ohio, to inspect the property left in her father's estate. A parking lot occupied the site of the Rudge family home on Bryson Street. After discussing the situation with Richard Hammond and an officer at the bank, she created a trust, with Hammond, an old family friend, as trustee. She was delighted to meet her two young cousins (one, a nun in a teaching order). She hurried back to New York the same evening. Walter and his grandfather had been in all day; Ezra refused to eat, fearing that Olga would never come back. But the next morning he was up early to go with Walter to the Hans Arp exhibit at the Guggenheim Museum. On the last evening, Mary Hemingway, Ernest's widow, treated them to dinner at four-star Voisin.


The Venice Library of Ezra Pound and Olga Rudge.
Back in Venice, the house was being repainted, so Olga escaped with Ezra to Rome for the Fourth of July celebration. She recorded another significant dream.
Ezra: ''It was on the 4th of July that I hurt myself climbing over a picket fence. I scraped the skin in the crotch—didn't hurt my balls.''
Olga: ''How old were you?''
Ezra: ''Oh, eight or nine.''
Olga: ''I thought it was your father . . . ?''
Ezra: ''Yes, I don't know how old he was, a small boy, swinging on a swing and the rope broke. That's when he got that cut, you could put your hand into his side that far, lost one testicle—never could do athletics.''
Olga: ''Was he always telling you to take care?''
Ezra: ''No!''
Olga: ''Your mother?''
Ezra: ''She never mentioned the subject at all.''
A few days later they were in Spoleto. They found ''all serene '' at the Menotti palazzo. As in seasons past, the Festival of Two Worlds was a time of reunion with old friends: Simonetta Lippi, Buckminster Fuller and his wife Ann, Sally Fitzgerald and Stephen Spender's daughter, Isamu Noguchi and Willem de Kooning. Anthony Hecht wrote, and read, a poem dedicated to Ezra. When Ezra was invited to choose one of his own poems to read, he was so depressed Olga feared he could not go on with it. She got him onto the stage, where he sat quietly with six others—and at last, read. Listening from the box, Olga pronounced it ''Magnificent!'' They met the Spenders and others in the piazza after, and Noguchi and Menotti discussed staging Ezra's Women of Trachis the next season.


Olga Rudge and Ezra Pound
They were in Rapallo for another memorable happening on July 20, 1969, when an American spacecraft landed human beings on the moon for the first time. As they watched the Apollo 11 drama on television[44] at the Cafe Dante (formerly the Yolanda), Olga asked, ''should the astronauts have left the American flag on the moon—or that of the United Nations?''
Ezra: ''The American.''
Olga: ''Which do you consider of greater importance, the discovery of America, or the landing on the moon?''
Ezra (without hesitation): ''Landing on the moon.'' They were back in Venice in October, when critic Cyril Connolly, a dandy of the early 1920s—then very plump with a bald spot, ''looking like a Roman poet in exile ''—arrived. In Canto 76, recalling his early years in Venice, Pound had written:
by the soap-smooth stone posts where San Vio
meets with il Canal Grande
between Salviati and the house that was of Don Carlos . . .
Remembering, Connolly wrote a colorful account of Ezra's eighty-fourth birthday party:
The soapstone posts[45] are still there on the corner of the Canal San
Vio . . . 'the house that was of Don Carlos' is the Palazzo Guggenheim.
Our host, Count Cini, was an old friend, an outstanding octogenarian
whose fortune is devoted to his foundation on the island of
San Giorgio. . . . The Count was a gourmet. . . . We had place cards
and menus and rows of gold-engraved glass goblets. I shall never forget the white truffles in cheese sauce. . . . We ate persimmons and
local muscats and white figs, while the Count's beautiful Roman
wife cut up an apple for Mr. Pound. After luncheon, the guests
gathered 'round while the Count toasted the Maestro in Marc de
Bourgogne. . . . His birthday party [was] a mixture of Americans and Italians, painters, sculptors, writers. Peter Russell, now living in
Venice, read a poem in his honour; we drank champagne, and a
cake arrived with eighty-four small candles. The patriarch gave two
great puffs like the Cyclop's bellow, and blew out all the candles.
On Christmas Day 1969, a walk on the Zattere. Olga and Ezra were having lunch outside at the Pensione Cici, watching the passing scene. In late afternoon, the three Matzes came to the calle Querini, and Mary Jane read Chaucer in front of the fire. ''When I got to 'Merciles Beaute,''[46] she said, ''Ezra told me to read more slowly. Once he corrected my Columbia University Chaucerian English, and my voice was trembling as I read the line, 'your eyen two wol sleye me sodenly / I may the beaute of hem nat sustaynel.' I did not dare to look into his eyes.'' After the visitors left and the house was quiet, they picked up their chess game in front of the fire.
The twenty-sixth was another fine day for lunch outside at Cici, and Walter came as they were finishing, bringing a gift of maple sugar for Ezra. Walter was in good form, but Ezra was ''somnolent.'' He would not get up the next morning, so Olga took lunch up to his room on a tray and was able to talk with Walter without interruptions.
At year's end, they were alone again. Olga put on records of Bach and Yves Tinayre singing the Villon opera, and they toasted with Hennessey's Fond de Verre.
Early in 1970, both suffered from depression, due in part to the severe winter and prolonged bouts with influenza. Olga corresponded with Dr. David Shaw of the department of neuropsychiatry, West Park Hospital, Epsom, Surrey. ''I would be delighted to see him[47] [Pound] when he is in the UK,'' Shaw replied. ''However, long-standing depression in the 8th decade is notoriously resistant to treatment . . . [with] other problems of metabolic changes of aging. I do not think his hopes should be raised too high.'' To Olga: ''I was interested to hear of your annual bout of hibernation (cyclothymia). . . . You could try anti-depressants. Some people have been helped by Lithium.''
Other correspondence came from an unexpected source: Omar Pound at Cambridge. He was planning to visit them in Venice. ''I never cease to be amazed[48] (and grateful) for the astonishing way you care for Ezra Pound. Terribly exhausting, and no time off. Bless you for it!'' he wrote.
Olga's efforts were not unappreciated. On her seventy-fifth birthday April 13, Ezra wrote this paean of praise, ''To Olga'':
If there was a trace of beauty[49] in anything, she saw it.
For fine and just perception and a level gaze,
For courage in face of evil,
For courage in time of adversity.
If anyone ever deserved the spring with all its beauty, she did.
What her memory brought her was always some trace of fineness
of perception.
Dorothy Pound wrote to the couple in Venice in early spring: ''Rapallo is now quite unpleasant.[50] All winter there are floods of old people, and now—Easter and onwards—one caravan-load after another. The bay is already surrounded by bathing huts. I greatly hoped to see Ezra, it's more than a year.'' She added the distressing news that ''Sunday p.m. somebody got into my room and opened the little dispatch case, extracting several rings (I do so regret my engagement ring from Ezra). . . . They left the English money and passport untouched . . . must be Mercury transit across the Sun!''
On July 21, 1970, a ''Petition for Order to Make Monthly Payment[51] to Patient's Companion'' was filed by Caryl S. Terry, attorney for Dorothy Pound, ''Committee for Ezra Pound,'' in the U.S. District Court for the District of Columbia.
For a number of years, Miss Olga Rudge has acted as the patient's
companion, fulfilling the functions of both housekeeper and
nurse. . . . it would be advisable to provide Miss Rudge with some
remuneration for her services, since it would be extremely
expensive to hire persons to perform the services she presently
performs. Therefore, the Committee requests that an order be
entered authorizing her to make monthly payments to Miss Rudge
in the amount of $100 per month as compensation for her services
to the patient.
However benign the intent, the petition placed Olga in a subservient position; the one hundred dollars per month was not sufficient compensation for the blow to her pride. She had long accepted the sacrifice of taking on the responsibility of Ezra, and had come to terms with ''appearances.'' But it must have rankled to be Ezra's ''housekeeper and nurse '' in the eyes of the world.
Cyril Connolly was one correspondent who clearly recognized Olga, not as Pound's companion but more as a second wife. With a series of turbulent affairs and three marriages behind him, he was now three years older than his fifty-three-year-old father-in-law. His blond and pretty third wife, Deirdre, was expecting another baby. Would Ezra agree to be godfather by proxy? Cyril had dreamed that an old leather hatbox arrived from Venice, inside which he discovered a small child with a note from Ezra pinned to it: ''I am sending you a wunderkind—his mental age is four!''
Connolly apologized for the publication of a recent article calling Robert Lowell ''the greatest living American poet.''[52] He had meant living in America, he explained diplomatically. As a resident of Venice Pound was, in Connolly's view, ''the greatest living American poet''—but ''I only got to know his work well in the last few years.''
Valerie Eliot invited the couple to come to London, but Olga regretted that they couldn't go. She reported their busy schedule of the previous year: ''We hibernated in Venice[53] —as good a place an any other in winter, [then] went to France . . . a choreographer friend had a spectacle during the Fetes Jeanne d'Arc . . . three days in Paris, Orleans in May . . . to Rome [in] early June for two performances of Noh [plays], then to Spoleto, where Gian Carlo Menotti has lent his flat to E. for the Festival the last five years . . . as always, something or someone of interest.''
Back in Sant'Ambrogio ''heat, muggy heat.'' But the ''coup de grace '' to Olga was ''the Noel Stock book[54] [a new biography of Pound] and the favorable press it has received.''
James Laughlin had written the author, an Australian professor then at the University of Toledo, in Ohio: ''It seems to be crammed with information and facts . . . and reads well . . . looks like a triumph.[55] I hope that all the family will be pleased, including Olga.''
Olga was not pleased. ''Ezra has not seen him[56] since 1960 (or written him) except for a half-hour in Venice two (or three?) years ago. . . . [Stock] was a friend of Dorothy Shakespear Pound's . . . (details in the book, Ezra Pound says, could only have been given by her).''
Olga never forgave Stock, and from this experience she acquired a distaste for all biographers (in her daughter Mary's words, they appeared as ''hogs after truffles'').[57] She complained to Valerie Eliot that ''all human sentiments are being crushed out of [me].''
Olga and Ezra were in Venice for the rest of that summer with many visitors, some welcome and some unwanted. ''The filthiest of the hippies invading Europe . . . sit 'round here on dirty pavements, just like the pigeons. . . . I got rid of one hippie by the simple expedient of turning the hose on him.'' Canaletto paintings, she observed, ''portrayed a clean Venice —nary a pigeon.''
When Robert Lowell arrived, Olga ''got in some other people,'' and Ugo Fasolo read his ''Pigeon'' poem, their grandson Walter followed with Ezra's translation. Then Lowell read from his recent collection, For the Union Dead. ''Ezra sat on a hard chair from dinner till midnight, and noone said 'perhaps we should not keep E. up too long,' or 'how wonderful he is able to do it.' ''
During Pound's birthday week in October, Gianfranco Ivancich stopped by, bringing a recent issue of William Cookson's Agenda dedicated to Ezra, which pleased him. Mary arrived with granddaughter Patrizia on the twenty-ninth. The morning of his eighty-fifth birthday, Ezra announced that he had ''dreamt of leopards'' (possibly remembering the Roman zoo in the early days of their liaison). At Joan Fitzgerald's suggestion, Olga celebrated Mass with Mary and Patrizia at San Moise and took Communion. Count Cini rang up with auguri for Ezra, and came later, bringing a bottle of champagne. Other devoted friends stopped by: Lotte Frumi (''[with] a repertoire of Jewish jokes''); the ''beautiful blond,'' Lisalotte Hochs; Fasolo, Fitzgerald, and Gianfranco Ivancich.
Mario Casamassima brought a copy of Spots and Dots: Ezra Pound in Italy, photos by Vittorigo Contino of Ezra in Venice, Siena, and Rapallo, recently published by Ivancich. Count Cini thumbed through it attentively, Olga recalled, and offered to promote the book. When the count left, a woman from Mondadori, the publisher, with a copy of Mary's translation of the Antologia. Laughlin remembered ''a good letter from Mary[58] describing the birthday celebration, which was fairly quiet, except that a lot of reporters turned up.''
Pound's reputation as a leading Modernist poet was growing. Luigi de Maino, an editor from Milan, wanted to publish one of Ezra's early works, and came to interview him. When he asked which of the works they should publish, Ezra replied ''Sextus Propertius—the best, of course.'' (''E. could make decisions without any suggestions from me or anyone,'' Olga noted.)
The next morning, a photograph of Olga with Ezra, Buckminster Fuller, and Guido Cadorin appeared in Il Gazzettino. For many years she had avoided such publicity, ''for reasons of propriety,'' but at this point in life she had given up the pretense.
The year 1971 saw Mary's debut as a writer. Discretions (echoing the title of Pound's Indiscretions), published by Atlantic Monthly Press in the United States and Faber & Faber in England, revealed to the world for the first time Mary's childhood with foster parents in the Tyrol. Her descriptions of visits with her mother in Venice showed psychic pain: Olga, the strict disciplinarian who admitted ''little talent for motherhood,'' inspired fear and longing in the little girl, not understanding and love. In Olga's view, she had been trying to instill in her daughter the same discipline and perfectionism drilled into her by Julia, qualities necessary to become a concert violinist. But to Mary growing up, discipline came across as disapproval, a feeling that she never measured up to Olga's high standards.
Olga was deeply wounded by Mary's revelations. ''What good was she doing unleashing her spite and repercussions to her own and her children's damage?'' Olga wondered. What she minded most was Mary's claim that she had not wanted the name of a ''dead man''—that is, Arthur Rudge, the brother whose name Olga had listed on Mary's birth certificate to save her the embarrassment of an ''unknown'' father. Olga recalled that she had given Mary a blanket that had been Arthur's to take to La Quiete, and Mary mysteriously lost it.
Olga wrote to Peter du Santoy of Faber & Faber, pointing out the alleged ''inaccuracies''[59] in Mary's book. One particularly objectionable passage—''I shared Tate 's [Herr Marcher's] bed''—Olga protested vehemently: ''If Olga Rudge and Ezra Pound had known, I would have taken her away!'' This was, in her view, pure fiction.
At the time of publication Mary was in Ghana assisting Professor Leonard Doob of Yale with anthropological research. For several years, Doob had lived in Merano while studying the region, and developed a close friendship with Mary and her family; Mary dedicated her book, ''To Leonard.'' Discretions widened the breach between mother and daughter, and for many years Olga could neither forgive nor forget.
Her early collaboration with Ezra on Le Testament de Villon was at last being recognized. Robert Hughes, a young assistant conductor of the Oakland Symphony in California, was staging a new version based on the original orchestrated by George Antheil in the 1920s. With his companion, Margaret Fisher, he came to Venice to consult Olga about the production. He observed that when she arranged tea, ''it was a proper tea, Victorian proper.'' And even at this advanced age, Olga displayed great energy, staying up late to talk about Ezra and his work for seven hours. But she drew a line in the conversation when talking about her private life, a line that she would not cross.
A young couple from New York, Christopher and Mary Mendenhall Cooley (whose father was on the board of the Metropolitan Museum of Art), came to stay at 252 while looking for a house of their own. They bought a place with a garden in Dorsoduro, remarking how lucky they were to find it. Cooley remembered Olga saying: ''the hardest thing[60] is to cope with good luck. We can all cope with bad luck—there's no choice— but few people are smart enough to cope with good luck.''
In December 1971 Ezra was ill with a slight case of flu; she hoped to get him out again soon, but it was too cold and windy and there were highwater alarms. Yet they attended a solemn ceremony at San Giorgio to mark the death of another giant from the Paris years, Igor Stravinsky. Olga and Ezra listened from their places of honor near the altar rail while the mayor of Venice read Pound's poem ''Night Litany,'' with its haunting refrain, ''O Dieu, purifiez nos coeurs!''
The days—and hours—of Ezra's last year[61] ticked by, meticulously recorded in Olga's notebook. A telegram from Brooklyn on February 7, 1972, informed them that Marianne Moore had died in her sleep. Olga arranged a memorial service at St. George 's English Church in San Vio, and Father Victor Stanley conducted the Anglican rites at 5:30 the next evening. Ezra read, without faltering, Moore's poem ''What Are Years?''
What is our innocence
what is our guilt?
All are naked, none is safe. And whence
is courage: the unanswered question . . .
In early April, Alberto Piscetto, a translator for the Russian Congress Dostoievski, arrived in Venice. Olga sat with Olga Branca of the Cini Foundation, Ezra with Alberto, around a horseshoe-shaped table with the congressisti. Olga described the Russian voices and stance as ''pure granite —a prova di bomba [bombproof]!'' Alberto, ''a brilliant conversationalist who knew everybody,'' went back to the calle Querini with Viktor Sloski and greeted Ezra with a big bear hug.
Venice was still suffering from bone-chilling cold and the heat was off, so Olga made up the divan for Ezra downstairs near the fire. The next morning, ''Surprise!'' (twice underlined by Olga), ''a delightful aubade!'' Students from Minnesota State College, in Venice to sing at St. Mark's Cathedral, were serenading at daybreak. ''E., as usual, shy, but got him to show himself at the window to say thank you. Then all came in and went upstairs to meet him, in groups.'' On Olga's seventy-seventh birthday, ''E. celebrated by making morning coffee, which he carried up to me.'' Dinner that evening with translator Piscetto, the artist Guido Cadorin, and Professor Ghayyam Singh of Belfast, who had known Montale and F. R. Leavis. Olga pronounced all good company.
The days continued full to the brim, punctuated by special events. Photographer Henri Cartier-Bresson paid a farewell visit on the sixteenth. In May, a lecture by Sir Kenneth Clark, who greeted them cordially at the Ateneo Veneto; in June, the Verdi Requiem at La Fenice conducted by Thomas Schippers. The house in Dorsoduro had a revolving door for Pound scholars. Leon Edel, biographer of Henry James, got high marks for ''very good conversation,'' but added to her labors. As an example of the difficulty of caring for Ezra in his last years, she noted: ''When interested, he [Ezra] forgets his preoccupation with the 'water works' . . . changed linen three times, with maximum hysterical comment to drive one mad! But if I stop, it means getting into the hands of paid help.''
Olga was ruthless in discouraging unwanted visitors. D. D. Paige invited himself to Venice in June, bringing his second wife and young child of five. They would stay at the Pensione Seguso, and wanted to meet Pound again. Olga turned them away without a thought. Time was too short. On one of the rare cool days of summer, Olga read to Ezra from a book about Kierkegaard. ''Slow reading does not seem to tire him. [I] forget how slowly he always read to himself.'' When Ezra felt up to it, they traveled to Lucca to visit Enrico Pea, the poet whose work Olga had translated, who resembled ''a jovial Santa Claus.''
Another controversy as divisive as the one over the Bollingen erupted in 1972 when the nominating committee of the Academy of Arts and Sciences[62] in Boston awarded Pound the Emerson-Thoreau Medal, and the council of the Academy overruled it. According to James Laughlin, a close observer, ''the pot continued to boil . . . in a way very favorable to Ezra, and there have been a great many letters to the editor in various newspapers, even editorials.''
Dr. O. B. Hardison, director of the Folger Shakespeare Library in Washington, a member of the Academy, resigned in protest over the council's decision. He invited Ezra and Olga to Washington for a reading at the Library. They were in Friuli with the Ivanciches when the letter came, and failed to reply. Dorothy Pound (writing from Calford Green, Haverhill, Suffolk) heard the news and urged them not to go; the trip would be too hard on Ezra. ''Omar has 'parked' me[63] in a nursing home about twenty miles away,'' she wrote, ''an extra person in the house was too much for Elizabeth. The personnel [are] very thoughtful; clients, about ten or twelve, not given to being pleasant . . . lovely grounds, one can walk on stone paths. I am hoping Omar and Co. will be back next weekend.'' All of her letters to Ezra closed with a term of endearment, ''a toi.''
Another vexation for Olga arose when she learned that Mary's Discretions was being published in translation in Italy. ''A rather undiplomatic thing[64] to do,'' Laughlin wrote Noel Stock; ''it will simply increase Olga's hostility [to Mary], if the book is circulating . . . among her Italian friends.''
In September, another event to remember: breakfast at Caroline de Robilant's palazzo to view Pope Paul and his cortege passing on the Grand Canal. They joined a small crowd near the Accademia before the Pope was ''stuck up on a platform before St. Mark's,'' in Olga's words.
Olga's gift to Ezra on his last birthday was an antique bed with provenance of Isabella Stewart Gardner's family. Joan Fitzgerald came to help Olga assemble the parts. Some were missing, and Olga said it resembled ''a comic strip, trying to puzzle the matter out.'' At last, ''E. in bed—a miracle. He allowed me to sluice him in [the] tub, so all clean in a new clean bed.''
Pound's dream:[65] Vivaldi in Siena. Piscetto's prete had gotten someone in the Vatican to celebrate Vivaldi. ''I was looking for you,'' Ezra said, ''after we got there, I had forgotten the hotel.'' ''Did you find it?'' ''No, I just woke up.''
When Ezra felt strong enough for luncheon at Pensione Cici, he cut a distinguished figure: ivory-handled cane, newly laundered lavender shirt with wide collar, monocolored yellow tie. As they walked along the Zattere— a not unusual happening—a young German poet followed and introduced himself. At the Cici, Ezra hung his hat outside the pensione dining room according to custom, his scarf on a brass hook, and carried the cane inside, then took his place with Olga among the ''regulars.''
The next morning, new injections activated the bladder, and Ezra was a difficult patient: ''wet off and on all day . . . a constant drip.'' Olga never complained, but took a tranquillina at the moment of washing and dressing Ezra. Ezra objected to the ''cackle '' of Diana, the nurse who gave the injections. The situation reached crisis proportions on the eleventh, when he flooded. Ezra was ''better, but very bad-tempered'' over the weekend. On the sixteenth, the ''usual free fight to get him under the shower and dressed—how long can my strength last?''
The twentieth dawned cold and grey, and Ezra was in bed all day. Their neighbor Mary Jane Phillips-Matz came in the evening, and Olga noted that Ezra got in some good conversation about the Hirshhorn Museum in Washington and the National Cathedral (a member of Mary Jane's family had designed the stained-glass windows). The ''Nobel Prize [has] been and gone,'' Olga wrote—''not that E. ever spoke of it, but people did.'' His grandson Walter said of Pound at the end of his life, ''He was like Oedipus at Colonnus[66] —beyond grief.''
Telegrams of good wishes for Ezra's birthday were arriving. The notebook entry for October 29 read: ''Very foggy, also rain. [Ezra took] a glass of boiling water at 5, drops of Guttolax at 9 a.m. Cup of black coffee. No fever. Later, passata di legume, cups of apple water, apple puree. Fever [in the] afternoon (37.2 1/2 C). E. wet all day. 10g. Guttolax last thing.''
On October 30, Ezra's last birthday, Olga jotted: ''7 a.m., no results from Guttolax, a demi-tasse cafe. Broth with pastine at teatime.'' The artist Guido Cadorin, still groggy from a recent heart operation to install a pacemaker, came with a little pupil; Lisalotte and Manfredo, Joan Fitzgerald, the Bernard Hickeys, the Chris Cooleys, Rosso Mazzinghi, Lotte Frumi soon after. Peter Russell brought a poem. Ambrosini sent flowers and sweets. Lester Littlefield, a bag of goodies from Fauchon's.
There was plenty of champagne, Olga remembered. Ezra was lying on the bed in apricot pajamas under an apricot blanket. Olga was firm about not allowing more than two at a time to go up. She took the supper tray to Ezra at 8:30, when the Ivanciches went to Cici's to get sandwiches for the guests. (A waiter came back with a complete birthday dinner.) Ezra, unassisted, blew out all eighty-seven candles on the cake. After getting Peter Russell and Chris Cooley to leave at quarter to ten, Olga was still cleaning up at 12:30, too tired to sleep.
On October 31, she threw the I Ching as always, first thing in the morning. ''HSIEH = Deliverance'' was the prophetic message of the hexagram. Ezra felt considerable discomfort in his stomach, but no great pain. The congestion continued all day until late that night, when Olga became alarmed and called the ambulance boat to take Ezra to the municipal hospital, S.S. Giovanni e Paolo. Stoic as always, Ezra refused a stretcher, came downstairs with his hand on the wooden rail that had been put there in the 1960s, ''when Ezra Pound came back to stay—it was the last thing in the house His hand touched.'' He walked along the calle Querini to the Fondamenta Ca'Bala and climbed into the gondola unassisted.
As Olga related the events of their last hours together:
The next morning, Joan Fitzgerald came to the hospital . . . she
insisted on my resting, held his hand for the intravenous. He said,
''Take your hand away!'' I, of course, never rested, nor did I leave
the room from the time we got to the hospital. The doctors . . .
were kind, attentive and conscientious. . . . [I] had no impression of
his being in pain (he was always uncomplaining of physical pain).
After that, more intravenous, then a tube in [the] nose . . . which
evidently gave him relief, so much so that he dropped asleep, tired
out, but peacefully breathing, and we were alone. . . . There were
no last messages, no 'death-bed repentance.' I did not know,
though sitting with his hand in mine, when he had gone until the
nurse came in, turned up [the] middle light.

Caro! When death came it was beautiful, and you went, smiling.
I held your hand and was glad.
* Anne Conover; Olga Rudge and Ezra Pound, Yale University Press,
New Haven & London, 2001, pp. 243-257.
---
Notes:
[42] ''May I say how much I admire'': V. Eliot to Olga Rudge, 2 May 1969, ORP2/YCAL.
[43] ''She has evidently cared for him'': Claire Warren to E. Heacock, 3 Oct 1968, author's collection (from Caroline Warren).
[44] Apollo 11 drama on television: I Ching notebooks, 1984.
[45] ''The soapstone posts'': Connolly, ''Pound in Venice '' (autographed galley), Arts Front, Personal papers, Box 117, ORP4/YCAL.
[46] ''When I got to 'Merciles Beaute' '': M. J. Phillips-Matz, The Guardian, 6 Apr 1996.
[47] ''I would be delighted to see him'': Shaw to Olga Rudge, 23 June 1970, ORP2/YCAL.
[48] ''I never cease to be amazed'': Omar Pound to Olga Rudge, 7 Feb 1970, ORP2/YCAL.
[49] ''If there was a trace of beauty'': I Ching notebooks (in Ezra Pound's hand), 1970.
[50] ''Rapallo is now quite unpleasant'': Dorothy Shakespear Pound to Olga Rudge, 23 June 1970.
[51] Petition for Order to Make Monthly Payment: Personal papers, ORP4/ YCAL.
[52] ''the greatest living American poet'': Connolly to Olga Rudge & Ezra Pound, 17 Apr 1970, ORP2/YCAL.
[53] ''We hibernated in Venice '': Olga Rudge to V. Eliot, 18 Aug 1970.
[54] Noel Stock book: The Life of Ezra Pound. Stock (from Hobart, Tasmania), then a professor at the University of Toledo (Ohio), began corresponding with Ezra Pound in 1953.
[55] ''It . . . looks like a triumph'': James Laughlin to Stock, 1 July 1970.
[56] ''Ezra has not seen him'': Olga Rudge to James Laughlin, 7 July 1970.
[57] ''hogs after truffles'': Mary de Rachewiltz, Discretions, 267.
[58] ''A good letter from Mary'': James Laughlin to Stock, 3 Dec 1970.
[59] ''inaccuracies'' in Mary de Rachewiltz's Discretions: Olga Rudge to du Santoy, [nd] 1971, draft in Research notebooks, 1975, ORP3/YCAL.
[60] ''The hardest thing'': Author interview with C. Cooley, Venice, July 1993.
[61] Ezra's last year: 31 Dec 1971–31 Oct 1972, in red ''agenda,'' Research notebooks, ORP3/YCAL.
[62] Academy of Arts and Sciences, Emerson-Thoreau Medal controversy: see James Laughlin to Stock, 5 Sept 1972.
[63] ''Omar has 'parked' me'': Dorothy Shakespear Pound to Olga Rudge, 26 Oct 1972.
[64] ''a rather undiplomatic thing'': James Laughlin to Stock, 5 Oct 1972.
[65] Pound's dream; Ezra at Pensione Cici: I Ching notebooks, Box 101, 1970–72.
[66] ''He was like Oedipus at Colonnus'': W. de Rachewiltz (quoted by Caroline Warren).
Primary Sources
The primary sources of this biography are the Olga Rudge Papers, Yale Collection of American Literature (MSS54 YCAL), Beinecke Rare Book and Manuscript Library (herein cited as ORP/YCAL); family memorabilia in three old trunks that I was privileged to research at Brunnenburg during Olga Rudge's lifetime, now held by the Beinecke Library (cited as 1996 addition, ORP/YCAL); the Ezra Pound Collection (MSS53 YCAL: Series 2, Family correspondence, also held by the Beinecke Library, herein cited as EPC/YCAL; and MSS52 YCAL, cited as the EPAnnex).
Series 1 (ORP1): The Rudge–Pound correspondence, interfiled and chronologically arranged in Boxes 1–32. (I have followed the original text, omitting the use of [sic] when punctuation and spelling are idiosyncratic.)
Series 2 (ORP2): General correspondence (Boxes 33–92) of Olga Rudge and others is alphabetically arranged under correspondent's name (third-party correspondence in Boxes 91–92).
Series 3 (ORP3): Notebooks are divided into two sections: I Ching notebooks (Boxes 93–99), daily records of the years 1966–86 arranged chronologically, containing flashbacks to earlier events recollected by Olga Rudge in later life; and Research notebooks (Boxes 99–101), transcripts of important correspondence and materials collected by Olga Rudge ''to set the record straight,'' arranged alphabetically by title or subject).
Series 4 (ORP4): Personal papers (Boxes 102–24), writings, memorabilia, and notes, Olga Rudge's further attempts to document her life.
Series 5 (ORP5): Financial papers (Boxes 119–26), bills and receipts, leases, Ezra Pound's funeral expenses, etc., arranged alphabetically by type of material.
Series 6 (ORP6): Printed material (Boxes 127–34); and Series 7 (ORP7), Newspaper clippings (Boxes 135–41), collected by Olga Rudge and arranged alphabetically by subject and type of material.
Series 8 (ORP8): Music (Boxes 142–47), an important section documenting Olga Rudge's musical career, scrapbooks, notices, and clippings of Olga Rudge's early performance history, concert programs, Vivaldi research, the history of the Concerti Tigulliani, arranged alphabetically by subject and type of material.
Series 9 (ORP9): (Boxes 148–54), photographs of Olga Rudge and Ezra Pound, family members and friends, notables in the music world and other world figures; two early albums of Olga and friends at Capri (1921) and others in the mid-1920s and 1930s.
Series 10 (ORP10): (Box 155), Rudge family correspondence, childhood photos of Olga Rudge and her parents; Julia O'Connell's scrapbook of her singing career.