Maria Martins: the Open Secret of Étant donnés*
Review of "Marcel Duchamp. Étant donnés"
Philadelphia Museum of Art, August 15-November 29, 2009

Frédérique Joseph-Lowery
*Journal of Surrealism and the Americas 4:1 (2010), pp. 78-85
Copyright © 2010 (Frédérique Joseph-Lowery)
----- In 1997, Chris Grandlund (from the BBC) revealed Marcel Duchamp's affair with the Brazilian sculptor Maria Martins in his film, The Secret of Marcel Duchamp. The story reached an additional audience when Francis Naumann drew at length on this sentimental story in his 2001 Art in America article, "Marcel and Maria." The secret of the film title had already been the subject of scrutiny by the art historian Juan Antonio Ramirez, who in 1993 assembled the pieces and demonstrated that the creative process of Étant donnés relied upon two important female companions and artistic partners of Duchamp's life: Maria Martins and Alexina/Teeny Duchamp.[1] In 1996 Calvin Tomkins underscored the importance of Maria Martins, as well as that of Mary Reynolds, to whom the French review Étant donnés dedicates a recent issue (#8, 2009).[2] Previously it presented a large dossier on Duchamp's last work (#3, 2001), the focus of the exhibition "Marcel Duchamp. Étant donnés" at the Philadelphia Museum of Art (August15-November 29, 2009).
----- What can possibly be new in the current show that has not been uncovered either by critics, the popular art press, or the museum itself? In the 1987 reprint of the Museum Art Bulletin that accompanied the display of Duchamp's installation in 1969, Anne d'Harnoncourt and Walter Hopps unveiled Duchamp's photographs of the studio where he began to assemble Étant donnés, as well as a preparatory study for the nude of Étant donnés, a gouache on plexiglas.[3] Three years earlier, without Duchamp's knowledge, Maria Martins herself sent, to the 1966 London Tate retrospective on Duchamp, what is considered the first study of Étant donnés.[4] By this very gesture, the female Brazilian sculptor challenged Duchamp's secrecy and suggested her artistic participation in the installation, a project she followed and then saw before its public display, long after their separation.
----- The novelty of the exhibition resides less in its material than in the decision on the part of the Museum and Duchamp's heirs to no longer retain information or to limit reproductions. What had been concealed by Duchamp for twenty years—to which the family added a moratorium of fifteen years during which no photograph of the installation could be taken or published, literally a "Duchampian" delay—is now in the open and acknowledged as such by the museum where Duchamp's major works are gathered. That which could for fifteen years only be seen through the two holes in the famous Catalan door in Philadelphia, on the spot, is now on display in works and details of all kinds. The scientific examination of the making of the nude is spread out in a voluminous catalogue that no longer hides anything: you will know that the envelope of the nude is not pigskin but parchment, and hence connected to the role of Mary Reynolds, Duchamp's artistic and sexual partner with whom he collaborated in the making of many books. You will have confirmed for you that Feuille de vigne femelle (1950), Not a Shoe (1950), and Objet dard (1951) are works that Duchamp kept after breaking his plaster nude. This means that Duchamp offered the fragmented cast of his previous lover's genitals as a wedding present to his bride Teeny: Coin de chasteté (1954). You will read Duchamp's letters to Maria Martins, published for the first time in the catalogue of the exhibition (previously only alluded to or partially quoted by scholars). You will also discover that Salvador Dalí, whose work Duchamp defended at several instances during his career, signed 35 prints of the landscape on fabric in 1959 and therefore knew about the project long before William Copley or other late close friends of Duchamp did.[5] As is well known, the Catalan door comes from Cadaques, Dali's fiefdom. Dali's intervention is also in line with a similar installation titled Paradise, which is close enough to Duchamp's last work that Charles Stuckey calls it the "world's other Étant donnés" in his article "Dali in Duchamp-land."[6] The art historian describes the "two peepholes: the upper for adults, the lower for children. The peepholes reveal an elaborate installation never reproduced and scarcely mentioned in the many books on Dalí. In the immediate foreground is a huge stuffed toy bunny, but the crux of the scene is an old metal bedstead situated in a trellised arbor, with plastic grape leaves dangling overhead, resembling the tendrils of ever-growing ivy on the original version of Rainy Taxi, or even recalling the Bacchic self-portrait painted when Dalí was about 17. The sheets are disheveled, and there is something like a lump of plaster on the bed." It is a shame that Dalí, so present in the Philadelphia museum in 2005, suddenly became so invisible despite the importance of the unveiling of his signature. This is certainly a new piece of information displayed in this exhibition.
----- Uncovering a great wealth of information, this new exhibition contrasts with the previous curatorial choice of secrecy. But let's not be fooled: so many of Duchamp's women cannot be unveiled without the complementary and opposite gesture of concealing a lot about these very women, about their presence and their role. Let us begin with the main discovery that the show has to offer, and that passed unnoticed in all reviews of the show: Duchamp's sculpture of the nude is hollow. The plaster, first enveloped by parchment, was intentionally broken. The nude was hollowed out. This is why one can see the nineteen cracks in the back-lit skin, which Paul Matisse scrupulously counted as he assembled the piece in the Philadelphia Museum after it left Duchamp's studio, following the artist's death.[7] The skin is strengthened with putty and metal rods. The casts of Maria Martins only remain in discarded pieces and fragments that became the works listed above, mainly the imprint of her genitalia covered with a "coin" (wedge), or exposed. As for the genitalia of the nude of Étant donnés, they are far from being anatomically correct, as numerous critics have noticed. My interpretation is that this is not a sex, but a rictus, a rictus of death, of love, that took twenty years to be mourned, but which leaked from Duchamp's tomb.
----- The open secret of Étant donnés is that of an open tomb. Because of all the secrecy that surrounded Duchamp's installation—no reproduction of the work except the door that hid it, no press release—the New York Times critic John Canaday concluded his review of Duchamp's installation in 1969 with this comment, "the impression is just as if we had discovered the tomb of another Pharaoh. Very interesting, but nothing new."[8] It is precisely because of this dimension that there is no need to uncover the dirty pictures of the Black Dahlia (and their so-called similarity to surrealist aesthetics) as a possible source for the work, an approach firmly discarded by Michael Taylor in his essay.[9] One could argue that the "fait divers" is part of the description of a key manuscript by Duchamp in which the title of the work appeared for the first time.[10] Duchamp drew upon the iconography of such crimes in the kind of popular literature that documented them, and as a way to further debase Maria Martins. This is literally legible in the fact that the nude, first standing, passed into the horizontal position of a corpse—after the separation from Maria and at the time of the Black Dahlia case. I am not convinced that Duchamp "used" the photograph of the Black Dahlia, but that the work in its essence relates to the genre of the tabloid and the "fait divers." Scholars who focus on the identity of another victim, the romanticized Black Dahlia, participate in the Duchampian "erasure" of Maria. My intention is different: I want to unveil the artist's desire to make Maria Martins disappear, as a woman, artist, and an inspirer and collaborator, thereby justifying the removal of her name from the original title of the work which, in 1946, read: Étant donnés, Maria, la chute d'eau, et le gaz d'éclairage.[11] The murder, as Freud would put it, is symbolic; it is that of mourning, of coping with the separation from a woman whose artistic personality not only attracted Duchamp but strongly influenced his work. He could not bear that she would return to her husband (on his retirement in Brazil) instead of isolating herself in the "cage" that Duchamp had reserved for both of them, and where he finally conceived Étant donnés in almost complete solitude.[12] This artistic retreat and other facts prompt Michael Taylor to compare Duchamp to a hermit, a figure which Dalí comically incarnated in his obsession for the hermit crab.[13] It is also a convenient means for excluding Maria Martins' participation in Duchamp's creative project. When Duchamp described the sex of the nude that he had so much trouble working on, he called his model "the woman with the open pussy," as many male scholars hastened to repeat, probably applauding this kind of perception and language. In doing so, none of them, the curator of the show included, mentioned the beginning of Duchamp's sentence. That open pussy is the "porte de sortie" from frustration, an exit door.[14] How can one omit this crucial "detail" when the main element of the installation is a door, an omnipresent door, which for so long was the only part of the installation to be seen in reproductions! In fact this door is still today hidden in its overexposure in reproductions. One does not see what is under one's nose. This Étant donnés affair is the equivalent of Edgar Allan Poe's "Purloined Letter." No one notices that the public photograph of this door is inaccurate. If you enter the room of Étant donnés, the light behind the Catalan door automatically turns on and will stay on for five minutes, which means the apertures should be visible in a photograph. Instead, the door is photographed with its two nails in place. What is always described as "peepholes," or holes that act as lenses of a diorama, are just holes. There are no lenses, and for this reason at least this installation differs from the Large Glass (1915-1923) and To Be Looked at (from the Other Side of the Glass) with One Eye, Close to, for Almost an Hour (1918). The lenses only exist metaphorically as peepholes: the holes in the found door were caused by nails, and not Duchamp. The nails functioned to hold the door together, and served as a camouflage which prevented anyone who would have invaded Duchamp's studio from suspecting the scene that it hid. In the original visual concept of this installation, the viewer, as Paul Matisse once described, should first remove the two long nails of the door and then place his eyes where the sharp nails were and stare.[15] Stare, and remain standing with one nail in each hand. In other words, the viewer has the power of altogether unveiling and dissimulating the scene. This gesture is twofold. Today these impressive iron nails (the longest is 4 ½ inches) are on display, elements of the open secret I am pointing to.[16] These nails are under a case, near the erotic objects of the broken plaster body parts, to which they have no relationship. One understands that we don't want them to be stolen, but a replica of these nails and that the viewer would be invited to reinsert in their original location would have respected more faithfully the conceptual structure of Étant donnés. After all, isn't Duchamp the forerunner of conceptual art?
----- The other hidden element is Maria Martins, who is indeed falsely present. She is introduced as a "femme fatale," even a torturer, based on one of her poems. We see a sentimental Duchamp who draws a red heart below a French standard inscription begging (her?) not to crush it.[17] More interestingly, in his letters, Duchamp acknowledges her role in the technical making of the nude. A gifted sculptor, she advised Duchamp to use a paraffin counter mold to keep the parchment in place, especially in the delicate genitalia and armpit, areas of the nude which were difficult to cast. She is nonetheless absent in the catalogue, where the curator insists on calling the nude (Duchamp's words) a "mannequin." Michael Taylor's motivation is to put emphasis on the surrealist nature of the installation. And indeed, this nude that seems to have been dumped outdoors holds a Bec Auer, which evokes the idea of mannequins aligned in a street like prostitutes in the 1938 surrealist exhibition at the Galerie Beaux Arts.[18] Let's add to this gallery the wax mannequin that Dalí placed at the center of his autobiography in a scene of murder and coprophagy. However this nude does not have the appearance of a mannequin; it is not industrially manufactured but laboriously handmade; it is unique, and conveys the resemblance of two women (Teeny and Maria), even three in spirit (Mary Reynolds). Furthermore, it is hollow parchment. The more the nude is presented as a mannequin, the more it loses its originality, its symbolic function (mourning) and its aesthetic quality, and the less Maria Martins is present; she becomes anonymous. Duchamp, after Nu descendant un escalier (1912) and La Mariée mise à nu par ses célibataires, même, confronts himself with the question of the academic nude. Like Picasso's late works, he ends his career in addressing the issue of the female model and muse. This model had a name, a specific body, and was not a universally abstract entity.
----- Furthermore, too little is said about Maria Martins' work, her sculptures and poems, and her recognition by Breton and Michel Tapié.[19] She was an established artist before her meeting with Marcel Duchamp. Her works were acquired by MoMA and the Metropolitan Museum as early as 1940 and 1941. André Breton discovered her work in 1943 at the Valentine Gallery, New York when he saw the show "Amazonia," that combined poems and sculptures dedicated to numerous Brazilian goddesses. Her work offered Surrealism a contemporary mythology comparable in its inventiveness and sense of poetry to the Metamorphoses by Ovid. Her attention to luxuriant vegetation, celebrated by all art critics, also probably exerted an influence on the disproportionately enlarged green landscape of Étant donnés. In 1947, André Breton praised her creative strength and expression of desire in his presentation of her exhibition at the Julien Levy gallery. As for Michel Tapié, it was her sense of magic that retained his attention when her work was exhibited at the Galerie Drouin in Paris in 1948.
----- The destiny of one of her sculptures in the Philadelphia Museum, on the occasion of this exhibition, deserves to be noted. Duchamp had a window made in the Philadelphia Museum so that Maria's sculpture Yara, goddess of the river—"in love with love," as her accompanying poem states—would be seen through the Large Glass.[20] During the show, this window was blocked by a fake wall. Some years ago the sculpture fell on its nose or was vandalized (it is not clear) and was put away. When the exhibition opened, the curator states that the sculpture was still waiting for its "mask" and only made its appearance a month later for the two-day symposium. It was no longer outdoors but placed inside the museum, at the entrance of the show. As Francis Naumann privately confided, it was not repaired and its face was disfigured. It did not look bad, but more like a Gauguin.
----- What is more bothersome is that this new scenography discards Duchamp's conception. In the original context of the installation, one faced the Large Glass and Yara (placed outside). The viewer had to then turn 180 degrees to face the door of Étant donnés and view what remained of the representation of Maria Martins' body. In other words, with today's new placement of the sculpture, Duchamp's intended "retour miroirique" no longer operates. Instead the viewer is invited into a small nearby room closed by a dark curtain to see a video by the artist Hannah Wilke.[21] Enacting the mannequin so strongly desired by the curator of the show but that does not exist in Duchamp's project, Wilke displays poses of a top model and performs a striptease behind the Glass after sculpting her chewing gum and chatting with the other woman who participated in the curatorial ceremony of the "open tomb/open secret" from its very beginning: Anne d'Harnoncourt. The then-assistant curator who, at the age of twenty four, was in charge of the installation of Étant donnés, passed away a few months before the opening of the exhibition and is now present in memoriam. For the second time, the exhibition of Étant donnés, forty years after its installation in the museum, is posthumous. Death again has the last word.
*Journal of Surrealism and the Americas 4:1 (2010), pp. 78-85
Copyright © 2010 (Frédérique Joseph-Lowery)
---
Notes:
[1] Juan Antonio Ramirez, Duchamp: el amor y la muerte, incluso (Madrid: Ediciones Siruela, 1993). English edition, Juan Antonio Ramirez, Duchamp: Love and Death, Even (London, UK: Reaktion Books, 1998).
[2] Calvin Tomkins, Duchamp: A Biography (New York: H. Holt, 1996).
[3] Philadelphia Museum of Art, Bulletin (Philadelphia: Philadelphia Museum, 1987). Plate 43 reproduces the c. 1950 preparatory study for the nude figure.
[4] Michael R. Taylor and P. Andrew Lins, eds. Marcel Duchamp: Étant donnés (Philadelphia, PA: Philadelphia Museum of Art / New Haven: Yale University Press, 2009). Published in conjunction with the exhibition "Marcel Duchamp: Étant donnés" shown at the Philadelphia Museum of Art. The study of Étant donnés (1946-48) is reproduced in plate 19 of the catalogue.
[5] Ibid. Dali's signature is reproduced in fig. 2.33. The signature is located on the back of Landscape (study of Étant donnés, 1959), which is reproduced in plate 52. Commentary on the signature can be found on pg. 271.
[6] Charles Stuckey, "Dali in Duchamp-land: The Philadelphia Museum's Extensive Duchamp Holdings Provide a Richly Instructive Foil the Centennial Dali Retrospective Currently on View There," Art in America (May 2005): 148-155.
[7] Taylor, Marcel Duchamp: Étant donnés. Fig. 3.15 reproduces Drawing of Cracks in the Mannequin's Skin (1969) by Paul Matisse.
[8] John Canaday, "Philadelphia Museum Shows Final Duchamp Work," The New York Times, July 7, 1969.
[9] Mark Nelson and Sarah Hudson Bayliss, Exquisite Corpse: Surrealism and the Black Dahlia Murder (New York: Bulfinch Press, 2006). See also Jean-Michel Rabaté, Étant donnés:1° l'art, 2° le crime: la modernitécomme scène de crime (Dijon: Presses du réel, 2010); Jean-Michel Rabaté, "Étant donnés:1° l'art, 2° le crime. Duchamp criminel de l'avant-garde," Interface 14 (1998). Rabaté is the first scholar who questioned the impact of the Black Dahlia case on the conception of Étant donnés in the French journal Interface. His article bears almost the same title as the book he published ten years later.
[10] Taylor, Marcel Duchamp: Étant donnés, plate 1.The preface of the notes of the Green Box begins with the title of Étant donnés in which Maria's name does not appear, given the date of the manuscript (1934). In the notes that follow, Duchamp writes: "Nous déterminerons […] une succession de faits divers". The expression «faits divers» (a surrealist motif) is circled in red by Duchamp. The Black Dahlia case is an example of "fait divers," an obscure crime that makes the headlines in the newspaper. As noted by Jean-Michel Rabaté, the literal translation "various facts" is erroneous and has important consequences into what turned, he says, into a "Duchamp industry." Jean-Michel Rabaté's remarkable analysis uncovers the literary context which from Mallarmé (Le Tombeau de Charles Baudelaire) to De Quincey informed Duchamp's work. See Rabaté, Given: 1º Art 2º Crime. Modernity, Murder and Mass Culture (Brighton, England/Portland, OR: Sussex Academic Press, 2007), 65-77.
[11] Taylor, Marcel Duchamp: Étant donnés. See plate 14.
[12] Ibid., 76. For this reason Jean-Michel Rabaté distinguishes the "tabloid ready-made." "This category would include "Given" insofar as it uses a tabloid photograph to get rid of personal and emotional overtones, like having to say farewell to Maria Martins, who left Duchamp when she returned to Brazil."
[13] On Dali and Duchamp, see my article "Duchamp at Dali's Mercy," in Marcel Duchamp and Eroticism, Marc Décimo, ed. (Newcastle, UK: Cambridge Scholars Publishing, 2007), as well as Stuckey, "Dali in Duchamp-Land."
[14] D'ailleurs nous l'avons toujours dit la porte de sortie est ta sculpture et ma femme au chat ouvert, 408. See Duchamp's letter, April 7, 1948, in the exhibition catalogue. Earlier in the letter, Duchamp expresses the desire to exit the cage of false friends.
[15] Paul Matisse, "Les portes d'Étant donnés," Étant donné Marcel Duchamp, 3 (2001): 39.
[16] Taylor, Marcel Duchamp: Étant donnés. See plate 68.
[17] Ibid. Plate 22 reproduces That is for Maria (1946).
[18] Ibid., 71. As noticed by Jean-Michel Rabaté, modernity, according to Walter Benjamin, can be "summed up by prostitution, the sewers and the invention of the gas lamp: Paris had turned into a ville lumière, but at the cost of having banished its Romantic shadows."
[19] Graça Ramos "Maria Martins: Excultora dos Tropicos," Artviva (2009); André Emmerich Gallery, Maria: the Surrealist Sculpture of Maria Martins, 19 March-18 April 1998, André Emmerich Gallery, New York (New York: André Emmerich Gallery, 1998). Both works provide additional information on Maria Martins. In the gallery catalogue, Francis Naumann presents her career, and essays by André Breton, Michel Tapié, Ozenfant and Christian Zervos are translated into English.
[20] This sculpture was exhibited in the 1943 New York exhibition Amazonia. Her first version was made in 1940.
[21] Taylor, Marcel Duchamp: Étant donnés. Fig. 4.8 reproduces Hanna Wilke Through the Large Glass (1976).
---
---
Don't Forget I Come From the Tropics'*
Reconsidering the Surrealist Sculpture of Maria Martins
Michael R. Taylor
Hood Museum of Art, Dartmouth College"
*Journal of Surrealism and the Americas 8:1 (2014), pp. 74-89
Copyright © 2014 (Michael R. Taylor)
----- The work of the Brazilian sculptor Maria Martins (1894-1973) was for several decades completely marginalized in accounts of Surrealism, despite her prominent role in the movement during the 1940s, when her sculpture was included in a number of surrealist exhibitions and publications. As the wife of the Brazilian Ambassador to the United States, Maria Martins (Fig. 1), who exhibited her work under her first name, entered into a passionate love affair with Marcel Duchamp that lasted from 1943 to 1950. During their time together, Duchamp created drawings, photocollages, and plaster casts of Martins' body, which were the point of departure for Étant donnés: 1° la chute d'eau, 2° le gaz d'éclairage ... (Given: 1. The Waterfall, 2. The Illuminating Gas ...), his environmental tableau-construction of a recumbent female nude in a bucolic landscape setting.[1] Much of the literature on Martins has until recently focused almost exclusively on her affair with Duchamp, as well as her role as model and inspiration for the French-born artist's peepshow assemblage.[2] Over the past decade, however, there has been a significant revival of critical interest in her own work, including the recent biographies, exhibition catalogues, and essays by Dawn Ades, Ana Arruda Callada, Katia Canton, Terri Geis, Francis Naumann, and Graça Ramos, although it is safe to say that her sculpture still remains understudied and under-appreciated.[3]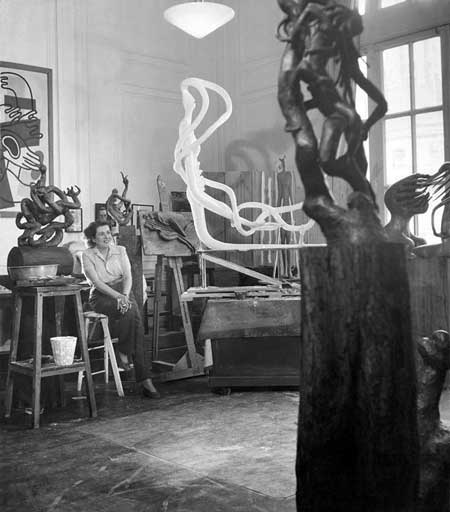 Fig. 1. Anonymous, Maria Martins in her New York studio, c.1946, Gelatin-silver print, courtesy of Francis M. Naumann Fine Art, New York
----- Martins' sculpture was rooted in the debates and themes of Brazilian modernism before World War II; as I will argue in this essay, the emphasis in her work on Afro-Brazilian culture, as well as on the myths and folklore of the Amazon Rainforest, needs to be placed within the context of a larger movement in Brazilian modernism, in which artists, writers, and musicians explored the theory of cultural cannibalism put forth by Oswald de Andrade in his "Manifesto Antropófago" (Cannibalist Manifesto).. This landmark publication, first published in the May 1928 issue of Revista de Antropofagio, challenged the dualities of civilization versus barbarism, modern versus primitive, and original versus derivative that had informed the construction of Brazilian culture since the colonial era. In doing so, as Leslie Bary has pointed out, Oswald de Andrade subversively appropriated the colonizer's inscription of Brazil "as a savage territory which, once civilized, would be a necessarily muddy copy of Europe. The use of the cannibal metaphor permits the Brazilian subject to forge his specular colonial identity into an original (as opposed to dependent, derivative) national culture. Oswald's anthropophagist – himself a cannibalization, not of Rousseau's idealized savage but of Montaigne's avowed and active cannibal – neither apes nor rejects European culture, but "devours" it, adapting its strengths and incorporating them into the native self."[4] Proclaiming Brazil to be a nation of cultural cannibals, Oswald de Andrade offered a solution for his country's perceived cultural inferiority by polemically recasting cannibalism as a positive cultural practice that would lead to the creation of an authentically national expression.
----- Martins' interest in Brazilian anthropophagy informed much of her mature work, which celebrated the cultural and ethnic diversity of her homeland. Martins' 1942 sculpture Yara (Fig. 2), for example, was inspired by her unique understanding of the Tupi or Guarani Indian myth of a man-eating river goddess who spent her days sitting on a large crimson-hued lotus plant, known as Vitoria regia, while combing her hair or basking in the sun. Whenever she sensed a man approaching, Yara would sing "her song of seduction" to entice the ill-fated lover to visit her jungle domain, where she would "offer him a flower and the kiss of death," before devouring her victim like an insect in a Venus flytrap.[5] It is easy to see how this femme fatale theme would appeal to the European Surrealists, many of whom were living in exile in the United States during World War II. Martins' 1943 exhibition at the Valentine Gallery in New York caught the attention of André Breton, for instance, who connected her interest in the mythology of the Amazon River with his own desire to create new myths on which a future society could be based. These included "Les Grands Transparents" (The Great Transparents), which captured the imagination of several surrealist artists after Breton described these invisible beings, whose presence was undetectable by the five senses, in the June 1942 issue of the Surrealist magazine VVV.[6]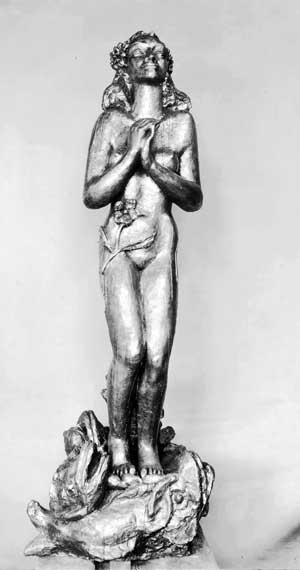 Fig. 2. Maria Martins, Yara, 1942, bronze, Philadelphia Museum of Art, purchased with funds contributed by an anonymous donor, 1942-72-1. Image from the personal photograph album of Maria Martins, courtesy of Portia Jones and the Maria Martins Estate
----- In his preface to Martins' 1947 exhibition at the Julien Levy Gallery, which remains one of the most insightful interpretative accounts of her work, the surrealist leader expressed his despair with a European civilization that had failed to prevent the rise of fascism in the previous decade and, by contrast, his heartfelt belief that it was non-western cultures, previously thought of as primitive or exotic, that now offered the hope of a meaningful future for mankind. Breton then turned to Martins' sculpture and recalled the enormous impact of seeing the Valentine Gallery exhibition four years earlier:
Maria's sculpture began to carry a whole legend on its shoulders, a legend that was nothing less than the Amazon itself. Sculpture garlanded, like the Amazon's own waters, with tropical creepers. This legend sang in those works of hers which I had the chance to see in New York in 1943 and admired so greatly. Just as it sang with all its immemorial voices man's passion from birth to death, re-created in symbols of unparalleled denseness by the Indian tribes which have succeeded each other along those treacherous banks. In her bronzes…Maria has succeeded marvellously in capturing at their primitive source not only anguish, temptation and fever, but also the sunrise, happiness and calm, and even occasionally pure delight; she is the emanation of all these things, all these wings and flowers. Maria owes nothing to the sculpture of the past or the present—she is far too sure, for that, of the original rhythm which is increasingly lacking in modern sculpture; she is prodigal with what the Amazon has given her—the overwhelming abundance of life.[7]
----- What Breton did not know was that Martins' interest in World culture myths pre-dated her involvement with the Surrealists by more than a decade, as seen in the works she made in the mid-to-late 1930s under the influence of Catherine Barjanski, with whom she studied in Paris, and Oscar Jespers, with whom she studied in Belgium. Unfortunately, the vast majority of the sculptures that she made before moving to the United States in 1939 are now lost and presumed destroyed, although a visual record of these works is contained in an unpublished photograph album that Martins assembled in the early 1940s to document her early sculptural production.[8] Works like Macumba (Fig. 3) reveal that Martins had adopted the expressive distortions and direct carving techniques of German Expressionist sculpture, especially those of Ernst Barlach, whose elongated figurative sculptures had a powerful impact on the early work of her teacher, Oscar Jespers. However, it is important to note that Martins deliberately carved her figures in wood from the subtropical jacaranda tree, which is native to Brazil and other parts of South America. Jacaranda has a straight grain and is relatively soft and knot-free, thus making it ideal for sculpting; Martins' choice of this specific wood was also clearly intended to resonate with the Brazilian themes of her work, which in the case of the 1939 work Macumba references the underground Afro-Brazilian religion whose rituals and imagery are frequently invoked in the artist's subsequent work. A later version (San Francisco Museum of Modern Art), which was exhibited at the Valentine Gallery in 1944 and reproduced in the fourth issue of VVV, was lauded by Breton as "a hymn to the god of spasm himself."[9]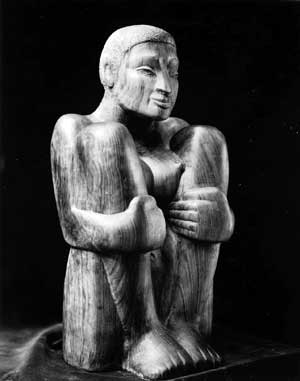 Fig. 3. Maria Martins, Macumba, 1939, jacaranda wood. Image from the personal photograph album of Maria Martins, courtesy of Portia Jones and the Maria Martins Estate
----- Macumba is a term used to denominate Afro-Brazilian religious cults, practices, and ritual objects, but most specifically those thought to involve sorcery or black magic.[10] As Martins was no doubt aware, through her earlier interest in the "anthropophagic" modernist writers of the 1920s, Macumba also speaks to the mixed racial heritage of modern Brazil. Integral to macumba were rituals of blood sacrifice, drumming, and other vestiges of a "primitive" or "uncivilized" African past—a past from which the Brazilian government, which her husband officially represented in the United States, was eager to distance itself. Maria's husband, Carlos Martins Pereira e Sousa, was a close friend and political ally of Getúlio Vargas, who in 1930 led a successful coup d'état in Brazil and would hold on to power in one form or another until his suicide in 1954. Between 1939 and 1945, when Martins made her Macumba sculptures and related prints, Vargas was a ruthless military dictator seeking to modernize and unite a country fractured by regional, racial, and class divisions through an aggressive program of economic and cultural nationalism. As Kelly E. Hayes has noted, "the climate of political repression that characterized Vargas's long reign ensured that practitioners of Afro-Brazilian religions continued to be subject to varying levels of official harassment and were periodically accused of harboring communists and other "subversive" elements, or of offending public morality."[11] At a time when the constant threat of police raids, confiscation of their ritual objects, or arrest of their leaders drove most Afro-Brazilian religions underground, it seems remarkable that Maria Martins, the wife of the Brazilian Ambassador to the United States from 1939 to 1948, would celebrate macumba in her sculpture. In open defiance of the government policy of economic modernization promoted by her husband, Maria rejected the colonizing traditions of Europe in favor of the instinctual, irrational side of Brazil's unique multiracial heritage and rich vernacular culture.[12] In doing so, she aligned herself with the aims and ideals of the international surrealist movement in the early 1940s, which actively embraced indigenous forms of cultural production in Latin and South America.
----- Martins' work underwent a profound sea change after she moved to the United States. Working in an attic studio on the fourth floor of the Brazilian Embassy, which she dubbed "My own Montparnasse,"[13] she began to explore the indigenous folklore of the Amazon region in sculptures of mythological deities, whose naked bodies were often intertwined in writhing, Laocoön-like entanglements, suggestive of vines and other forms of dense vegetation. These intricate compositions necessitated a shift from wood carving to modeling in plaster and casting in bronze. In the winter of 1941, Martins rented a duplex apartment with a high-ceilinged studio at 471 Park Avenue, New York, and began taking lessons from Jacques Lipchitz, a master of the lost wax (cire perdue) method of bronze casting, with whom she had a brief love affair. The baroque exuberance of Lipchitz's allegorical figurative sculptures would have a decisive impact on Martins' future work, although her interest in Brazilian myth and folklore would have an equally profound influence on Lipchitz's own work between 1941 and 1942, when he completed a series of twelve transparent sculptures that were shown in New York to great critical acclaim at the Buchholz Gallery in 1943. Two of these orgiastic sculptures, in which naked female bodies rise up from lily pads or are encased in spiky forms resembling tropical fruit, were entitled Yara, thus confirming Lipchitz's own interest in the Amazon River myths that preoccupied Martinss, although his debt to her work has never been acknowledged in the literature on the artist.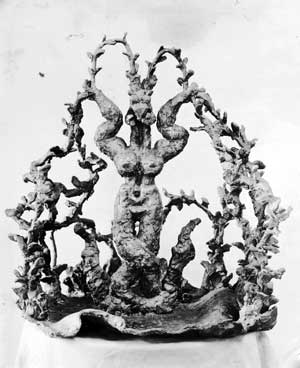 Fig. 4. Maria Martins, Aiokâ, 1942, bronze. Image from the personal photograph album of Maria Martins, courtesy of Portia Jones and the Maria Martins Estate
----- Having mastered the technique of bronze casting during her two-year apprenticeship with Lipchitz, Martins began to create works inspired by her rich native culture, especially snake goddesses and river deities, including Aiokâ (Fig. 4), Boiuna (Private collection), and Yara, the man-eating siren of the Amazon. Martins submitted a plaster version of Yara to an international exhibition of contemporary sculpture that was organized by the Fairmount Park Art Association and held at the Philadelphia Museum of Art from May 18 to October 1, 1940. Painted to resemble bronze, the nearly eight-foot–high sculpture graced the Museum's East Terrace, overlooking Philadelphia's City Hall and Center City, and was one of the most talked-about works on display.[14] This sculpture depicts the naked river goddess on a huge water-lily pad surrounded by fish and dolphins, seemingly poised to catch and digest a poor mortal who cannot resist her song of temptation. Two years later, Martins cast this tall standing nude in bronze at a foundry in Bedford, New York, for her solo exhibition at the Valentine Gallery, which opened on May 11, 1942. That same year the sculpture was acquired by the Philadelphia Museum of Art for the relatively large sum of $10,000, and on July 6 the work was installed on a limestone base in an outdoor sculpture garden on the Museum's East Terrace, where it overlooked a spurting fountain.[15] The site was appropriate, given Martins' interest in the water myths of the Amazonian Rainforest, as seen in the fishlike forms that decorate the base of the sculpture and the droplets of water that run down the figure's back, arms and legs (Fig. 5).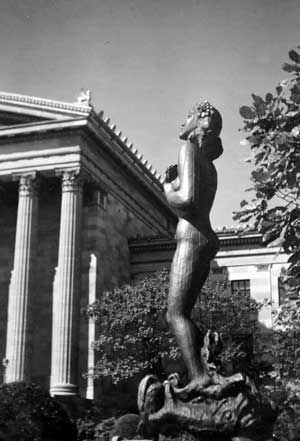 Fig. 5. Maria Martins, Yara, 1942, bronze, Philadelphia Museum of Art, purchased with funds contributed by an anonymous donor, 1942-72-1. Color image from the personal photograph album of Maria Martins, courtesy of Portia Jones and the Maria Martins Estate
----- The placement of Yara would take on added significance in 1954, when Duchamp installed a gallery featuring his magnum opus, The Bride Stripped Bare by Her Bachelors, Even, otherwise known as The Large Glass, in the modern wing of the Museum. Following Duchamp's specific instructions, behind The Large Glass a small doorway was installed that led onto a balcony, allowing visitors to walk outside the gallery designed for his work and take in a commanding view of Martins' sculpture on the East Terrace below.[16] Sadly, the experience of seeing this extraordinary juxtaposition of Duchamp's Large Glass and Martins' standing nude sculpture Yara is no longer possible, since the latter was vandalized in 1992, exactly fifty years after it was first installed on the Museum's East Terrace. The sculpture was pushed off its limestone base by an unknown assailant and the force of impact as it crashed to the ground caused extensive damage to Yara's visage and legs, opening the seams where the different sections of the cast were held together. Although the work was expertly restored and cleaned by Melissa S. Meighan, Conservator of Decorative Arts and Sculpture at the Philadelphia Museum of Art, in time for inclusion in the 2009 Marcel Duchamp: Étant donnés exhibition, it was determined at that time that Yara will never be able to be installed outdoors again due to the fragile nature of its surface and the open seams, which would inevitably lead to rust and further damage to the piece.[17]
----- The bronze sculptures that Martins produced after her training with Lipchitz ended in 1942 reveal her continued fascination with the mythology of the Amazon River. Yet the human, plant, and animal forms she continued to use were no longer presented in the static, timeworn fashion of the academic standing nude we see in Yara. Instead, her works became animated with a writhing, baroque exuberance that accentuated her themes of fertility, desire, and sexual cruelty. In the 1942 bronze sculpture Cobra grande (Private collection), the undulating, phallic form of a snake deity is repeated in a dense archway of entangled cords and vines evocative of the impenetrable Amazon jungle over which she presides. In works such as Cobra grande and Aiokâ, which are also informed by the rich cultural legacy of Brazilian indigenous culture and folklore, Martins created what Katia Canton describes as "a remarkable amalgam, where men and women, animals, forests and swamps appear to echo sensuality. She manipulates images, imbuing them with desire, violence and lyricism and in doing so, ascribing to them a mythical condition. In particular, bronze is treated in such a way that through autonomous nuances, it replicates the organic nature, the textures and porosity of the human skin and of natural sap."[18]
----- Cobra grande was included in the aforementioned 1943 exhibition at the Valentine Gallery, for which Martins published Amazonia, a series of texts based on the myths and legends of the Amazon River that accompanied illustrations of each sculpture in the show. Once again, this publication must have entailed some form of personal risk for Martins, since Amazonia under Vargas was increasingly seen as a vast stock of natural resources to be exploited, with devastating results for the indigenous populations. The cover of this limited-edition book featured a map in which the earth is rendered in a pale green color and the Amazon a crimson red, so that when seen together the mighty river and its various streams and tributaries read like blood vessels or veins. It is important to remember in this regard that Martins grew up in Southeastern Brazil, near the São Francisco River, in a region filled with waterfalls, lakes, and rivers that undoubtedly influenced her mature sculpture, with its emphasis on water deities and the creative and destructive forces of nature.
----- By 1947, when two of Martins' sculptures were included in the international Surrealist exhibition in Paris, her work had changed again. The impenetrable vegetation and spiky excrescences found in works such as Cobra Grande were replaced in works such as The Woman Has Lost Her Shadow, characterized by smooth surfaces and increasingly simplified forms. Inspired by Alberto Giacometti's Hands Holding the Void, of 1934, a cast of which her close friend Matta had purchased in 1943, Martins' standing figure similarly holds out her oversized hands as if offering something, yet no object is visible to the naked eye. This empty gesture was exacerbated when Martins mounted this totemic figure and another human surrogate on a long rectangular beam to create The Road; The Shadow; Too Long, Too Narrow (Fig. 6). This monumental processional sculpture takes as its theme the artist's complex relationship with the indigenous cultures of her native Brazil. As a modern artist whose work had explored Afro-Brazilian rituals and the myths and folklore of the Amazon River, Martins had frequently explored the liminal boundary areas between western and non-western cultures, whether regional or historical, but developed this theme in The Road, The Shadow, Too Long, Too Narrow with a concentrated power that she perhaps never surpassed, and which still seems to be underappreciated in the growing literature on her work.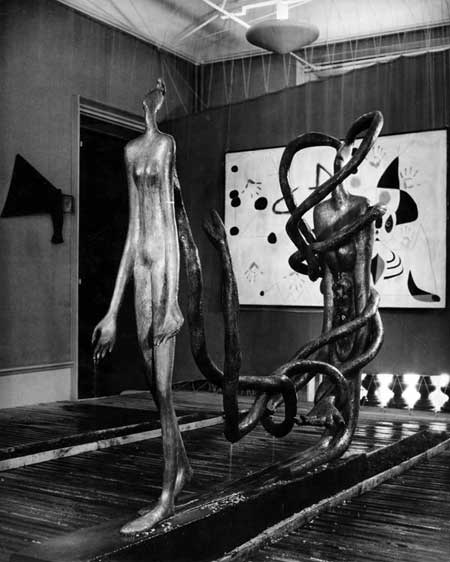 Fig. 6. Willy Maywald, installation view of the Rain Room in the 1947 "Exposition Internationale du Surréalisme," Galerie Maeght, Paris, with Maria Martins's sculpture The Road, The Shadow, Too Long, Too Narrow in the foreground and Joan Miró's Woman in the Night in the background. Vintage gelatin silver print on barite paper, Austrian Frederick and Lillian Kiesler Private Foundation, Vienna ©2013 Association Willy Maywald / Artist Rights Society (ARS), New York / ADAGP, Paris ©2013 Austrian Frederick and Lillian Kiesler Private Foundation, Vienna
----- The sculpture expresses Martins' fears, as an artist working in New York, about her increased estrangement from the culture from which she drew her source material and inspiration, as well as a deep nostalgia for the homeland she had not visited in nearly fifteen years. A slightly earlier sculpture bears the title Saudade (Private collection), a virtually untranslatable Portuguese word that the artist used to describe her deep emotional state of nostalgic yearning for Brazil. When seen together, the woman who had lost her shadow is now accompanied by her alterego, a seated Amazon River deity who emits from her head two giant snakes whose looping, multi-limbed forms trail after the plaintive Yara-like figure. Such imagery is strongly reminiscent of the paintings of the Brazilian anthrophagist painter Tarsila do Amaral, who was briefly married to Oswald de Andrade in the late 1920s, and whose work Martins greatly admired. Likewise, Martins' sculpture often enters into fascinating dialogues with other surrealist artists at this time, as seen in Victor Brauner's Meeting at 2 bis rue Perrel, (Musée d'Art Moderne de la Ville de Paris, Paris), in which Henri Rousseau's invented jungles are updated through Martins' imaginative interpretations of the Amazonian Rainforest in works like The Road, The Shadow, Too Long, Too Narrow.
----- Given the importance of this sculpture in her oeuvre, as well as its profound personal meaning, it is easy to see why Martins chose to include The Road, The Shadow, Too Long, Too Narrow in the "International Surrealist Exhibition," which opened at the Galerie Maeght, Paris, on July 7, 1947. Co-organized by Marcel Duchamp and André Breton, and presented in a dynamic environment designed by the visionary architect Frederick Kiesler, the 1947 "International Surrealist Exhibition" and its accompanying catalogue were dedicated to the theme of modern myths. This was a familiar subject for the Surrealists both during and after World War II, particularly as they sought to reinvent and reinvigorate their activities in the changing cultural landscape of the late 1940s, when they were increasingly isolated and often associated exclusively with the pre-war avant-garde. The 1947 exhibition was an attempt to cement the collective efforts of the surrealist artists and writers and to discover new myths rather than perpetuate the outmoded myths and visual culture of ancient Greece and Rome that had so easily been appropriated by fascist dictators like Hitler and Mussolini. Martins was one of only a handful of South American artists who were invited to participate in the exhibition, which presented her work on an international stage for the first time.
----- Martins was represented by two sculptures she had completed in the previous year: The Road; The Shadow; Too Long, Too Narrow and Impossible (Fig. 7). The two sculptures were prominently displayed by Kiesler, according to Duchamp's specific instructions, in the exhibition's notorious "Rain Room," alongside works by Victor Brauner, Arshile Gorky, Wifredo Lam, Joan Miró, Isamu Noguchi, and Isabelle Waldberg. The "Rain Room" had its origins in Kiesler's preliminary designs for the Bloodflames exhibition, which was held at Alexander Iolas's Hugo Gallery, New York, in February 1947. The highlight of this exhibition was the net curtain that surrounded Wifredo Lam's painting The Eternal Presence, (Museum of Art, Rhode Island School of Design), which was mounted on the ceiling. Visitors had to enter the intimate, cocoon-like space behind the diaphanous curtain and sit in one of Kiesler's rocker chairs in order to view the monumental painting, whose placement on the ceiling challenged traditional, wall-bound methods of displaying art by forcing viewers to contemplate it while sitting and gazing upward. Unfortnately, Kiesler's original plan to include running water within this space—with the transparent drapes functioning as a shower curtain—was not carried out, since he feared that the other art works on display would suffer water damage. However, the idea would be resuscitated later that year when Kiesler, at Duchamp's urging, created the "Rain Room" at the surrealist exhibition in Paris, which required a drainage system and a series of wooden duckboards, like those found in public showers or saunas, to be installed in the gallery. It is my belief that the "Rain Room" was specifically designed by Duchamp to showcase Martins' sculptures and add an acoustical element to her work, which he had earlier extolled, in an November 1945 interview with James Johnson Sweeney, as one of the most important aspects of her work.[19] Duchamp probably had in mind earlier sculptures like Yara, which was designed to be a working fountain, with water gushing out of the mouths of the fish and dolphins that form its base. The glistening bronze surfaces of these works were enhanced by their placement under a curtain of rain that also underscored their origin in the myths of the Amazon River and the cultural cannibalism of Brazilian modernism.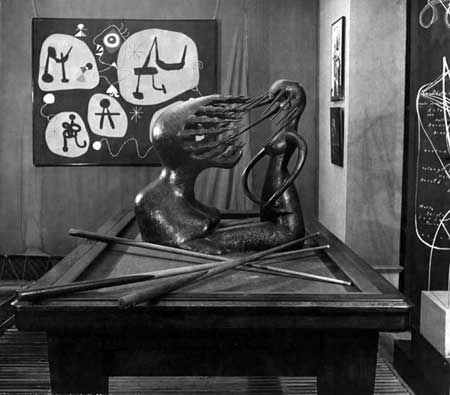 Fig. 7. William Maywald, installation view of the Rain Room in the 1947 "Exposition Internationale du Surréalisme," Galerie Maeght, Paris, with Maria Martins's sculpture Impossible on a billiard table and Joan Miró's Femme entendent la musique in the background. Vintage gelatin silver print on barite paper, Austrian Frederick and Lillian Kiesler Private Foundation, Vienna ©2013 Association Willy Maywald / Artist Rights Society (ARS), New York / ADAGP, Paris ©2013 Austrian Frederick and Lillian Kiesler Private Foundation, Vienna
----- Martins' works in the exhibition appear to have been chosen carefully, since their imagery and meaning fitted perfectly with Breton's notion that new or nonwestern myths were needed to replace the classical myths, such as the legends of Prometheus, Pygmalion, and the Minotaur and the Labyrinth that had obsessed surrealist artists such as Ernst and Masson, as well as fellow travelers such as Picasso, throughout the 1930s. As we have seen, the autobiographical The Road; The Shadow; Too Long, Too Narrow instead referenced the Amazonian myths that had fueled Martins' creative endeavors since the early 1940s. Impossible, which was displayed on a billiard table in the "Rain Room," similarly drew upon the sculptor's earlier interest in sexual imagery related to Venus flytraps and other types of predatory animal and plant forms (Fig. 7). The work depicts a male and a female figure doomed to exist together in a perpetual combat, as symbolized by their interlocking tentacles. That Martins possibly intended these terrifying ovoid-headed figures to represent the underlying problems of her relationship with Duchamp can be discerned through her comments on the work to Time magazine in 1946: "The world is complicated and sad—it is nearly impossible to make people understand each other."[20]
----- Martins' fiery temperament was diametrically opposed to Duchamp's cool detachment, and their different personalities appear to have presented insurmountable problems for their relationship, perhaps leading the Brazilian sculptor to use their personal incompatibility and failure to communicate as the subject of this work. In her 1946 prose-poem Explication, which, as Francis M. Naumann has persuasively suggested, was composed as an open love-letter to Duchamp,[21] Martins lamented the fact that her Amazonian River Goddesses were always seen as "sensuous and barbaric" and that even her closest friends often forgot that she came "from the tropics." Even so, this complaint dates back to at least 1942, when she entitled one of her earliest bronze sculptures Don't Forget I Come From the Tropics (Private collection).[22] Duchamp's sympathetic placement of his lover's work under a continuous shower of rain in the 1947 "Surrealist Exhibition" can thus be seen as his answer to Martins' suggestion that he had failed to understand her work and its origins. When seen in conjunction with Breton's call for new and non-western myths, the choice of The Road, The Shadow, Too Long, Too Narrow and Impossible no longer seems random, but rather appears to be a deliberate expression of Martins' own personal mythology. As Duchamp clearly understood, this mythology based in turn upon the prose narratives of the indigenous populations of the Amazon Rainforest, whose myths, legends, and folktales provided the permanent ground on which Maria's sculptures rested, and the soil in which their roots were invisibly nourished.
*Journal of Surrealism and the Americas 8:1 (2014), pp. 74-89
Copyright © 2014 (Michael R. Taylor)
---
Notes:
[1] Duchamp's secret love affair with Maria Martins and its implications for his subsequent work were revealed by Francis M. Naumann in a review of the 1993 Duchamp retrospective exhibition at the Palazzo Grassi in Venice, see Naumann, "The Bachelor's Quest," Art in America, Vol.81, no.9 (September 1993): 73-81, 67, 69. In a subsequent article, Naumann supplied further biographical information regarding Duchamp's relationship with Maria, including details of previously unpublished works of art that the artist had given to her, all of which allowed Naumann to elaborate on the theme of sexual frustration that he saw as underpinning the Étant donnés project, see Naumann, "Marcel and Maria," Art in America, Vol.89, no.4 (April 2001), 99-110, 157.
[2] See, for example, Raúl Antelo, Maria con Marcel: Duchamp en los trópicos, (Buenos Aires: Siglo XXI Editores Argentina, 2006).
[3] Dawn Ades, "Hybrid Creatures," in Charles Cosac, ed., Maria, (São Paulo: Cosac Naify, 2010) 107- 123; Ana Arruda Callada, Maria: Uma biografia, (Rio de Janeiro: Gryphus, 2004); Katia Canton, "Maria Martins: The Woman Has Lost Her Shadow," trans. Odile Cisneros, Nucleo Histórico Antropofaçia e Histórias de Canibalismos, Vol.1, (São Paulo: XXIV Bienal de São Paulo, 1998), 288-301; Terri Geis, "'My Goddesses and My Monsters': Maria Martins and Surrealism in the 1940s," in Dawn Ades, Rita Eder, and Graciela Speranza, eds., Surrealism in Latin America: Vivísimo Muerto, (Los Angeles: Getty Research Institute Publications, 2012), 143-157; Francis M. Naumann, "'Don't Forget I Come From the Tropics': The Surrealist Sculpture of Maria Martins, 1940-1950," in Maria: The Surrealist Sculptures of Maria Martins, exh. cat., (New York: André Emmerich Gallery, 1998), 8-38; and Graça Ramos, Maria Martins: Escultora dos Trópicos, (Rio de Janeiro: Artviva Editore, 2009).
[4] Leslie Bary, "Oswald de Andrade's 'Cannibalist Manifesto,'" Latin American Literary Review, Vol.19, no.38 (July-December 1991), p. 35.
[5] Maria Martins, "Yara," in Amazonia by Maria, exh. cat., (New York: Valentine Gallery, 1943), unpaginated.
[6] André Breton, "Prolegomena to a Third Manifesto of Surrealism or Else," trans. N.G., VVV, No.1, (June 1942), 18-26. For more on the history and application of the Great Transparents myth, see Romy Golan, "Mise en suspens de l'incrédulité: Breton et le mythe des Grands Transparents," trans. Jeanne Bouniort, in André Breton: La beauté convulsive, exh. cat. (Paris: Musée national d'art moderne, Centre Georges Pompidou, 1991), 353–54; Didier Ottinger, "Les Grands Transparents," in Ottinger, Surréalisme et mythologie moderne: Les Voies du labyrinthe d'Ariane à Fantômas, (Paris: Éditions Gallimard, 2002), 85–93; and Fabrice Flahutez, Nouveau monde et nouveau mythe: Mutations du surrealism, de l'exil américain à l'"Écart absolu" (1941-1965), (Dijon-Quetigny: les presses du reel, 2007), 127-218.
[7] André Breton, "Maria," in Breton, Surrealism and Painting, trans. Simon Watson Taylor, (New York: Icon Editions, Harper & Row, 1972), 319-320.
[8] I am extremely grateful to Portia Jones, the granddaughter of Maria Martins, for sharing the artist's personal album of photographs with me, as well as other documents relating to the artist's life and work.
[9] André Breton, "Maria," in Breton, Surrealism and Painting, trans. Simon Watson Taylor, (New York: Icon Editions, Harper & Row, 1972), 320.
[10] Kelly E. Hayes, "Black Magic and the Academy: Macumba and Afro-Brazilian "Orthodoxies"," History of Religions, 2007, 283-315.
[11] Ibid., 295.
[12] For more on the official cultural policies of the Vargas regime, which supported a brasilidade – a term used to denote a specific sense of "Brazilianness" or national culture – that was rooted in the country's colonial past, see Daryle Williams, Culture Wars in Brazil: The First Vargas Regime, 1930-1945 (Durham, North Carolina: Duke University Press, 2001).
[13] Maria Martins, quoted in Anonymous, "Maria, Wife of Brazil Envoy, Leads Two Lives for Art and Diplomacy," Life, Vol.11, no.28 (December 8, 1941), 154.
[14] See the entry "Maria Martins, Yara," in Sculpture of a City: Philadelphia's Treasures in Bronze and Stone, (New York: Fairmount Park Art Association and Walker Publishing, 1974), 304.
[15] Ibid.
[16] Michael R. Taylor, Marcel Duchamp: Étant donnés, exh. cat., (Philadelphia and New Haven: Philadelphia Museum of Art in association with Yale University Press, 2009), 28.
[17] Frédérique Joseph-Lowery, in her review of the Marcel Duchamp: Étant donnés exhibition in this journal, argued that moving the sculpture indoors was "bothersome," as this "new scenography discards Duchamp's conception"; see Joseph-Lowery, "Maria Martins: the Open Secret of Étant donnés. Review of "Marcel Duchamp: Étant donnés," Philadelphia Museum of Art, August 15-November 29, 2009," Journal of Surrealism and the Americas, Vol.4, No.1 (2010): 83. Although I strongly reject the implication that the new placement of Yara was motivated by anything other than concern for the long term welfare of the sculpture, I agree with Joseph-Lowery that "Duchamp's intended "retour miroirique" no longer operates." It is my sincere hope, therefore, that the Philadelphia Museum of Art will one day consider commissioning a second cast of Yara that can be placed outside on the Museum's East Terrace, so that the fascinating dialogue between Maria's nude sculpture and Duchamp's Large Glass and Étant donnés can once again be restored.
[18] Katia Canton, "Maria Martins: The Woman Has Lost Her Shadow," trans. Odile Cisneros, Nucleo Histórico Antropofaçia e Histórias de Canibalismos, Vol.1, (São Paulo: XXIV Bienal de São Paulo, 1998), 297.
[19] James Johnson Sweeney, Interview with Marcel Duchamp, November 24, 1945, Philadelphia Museum of Art, Alexina and Marcel Duchamp Papers, reprinted with the permission of the Estate of James Johnson Sweeney.
[20] Maria Martins, quoted in Anonymous, "Underground Art," Time, Vol.62, no.18 (May 6, 1946): 64.
[21] Francis M. Naumann, "'Don't Forget I Come From the Tropics': The Surrealist Sculpture of Maria Martins, 1940-1950," in Maria: The Surrealist Sculptures of Maria Martins, exh. cat., (New York: André Emmerich Gallery, 1998), 26.
[22] Maria Martins, "Explication," (New York: Valentine Gallery, 1946), unpaginated. This three-part prose poem was published in a lavish, limited-edition portfolio that also included four engravings that Maria pulled herself on a small press that she set up in a room adjacent to her New York studio, see Ibid., 25.
---