Marcel Duchamp: Étant donnés
Michael R. Taylor
The Genesis, Construction, Installation, and Legacy of a Secret Masterwork
Chapter 4
LEGACY (Part 3)*
* Taylor, Michael R.; Marcel Duchamp: Étant donnés, Philadelphia Museum of Art & Yale University Press, 2009, pp. 214-223, pp. 223-227. (Published on the occasion of an exhibition held at the Philadelphia Museum of Art, Aug. 15 - Nov. 1, 2009)
© 2009 Philadelphia Museum of Art
MAE WEST VIEWING ÉTANT DONNÉS
In contrast to the works of Kaczynski and Jackson, the collages and drawings of the American artist Ray Johnson recast the Étant donnés mannequin as a female nude equipped with male genitalia, often a giant erect phallus (fig. 4.23), in line with Jean-François Lyotard's suggestion that the figure is androgynous. Johnson had no interest in the psychologically charged landscape environment of Duchamp's work, preferring to concentrate instead on the body of the reclining nude in an extended series that perhaps represents the most wide-ranging artistic engagement to date with Duchamp's final masterwork. Replete with voyeuristic and fetishistic vigor, Johnson's compositions turn the mannequin into a male object of desire, inspired by the transgendered fictional character of Rrose Sélavy as well as by "Cynthia," a life-size plaster dummy who appeared in a December 1937 issue of Life magazine (fig. 4.24a,b).[94]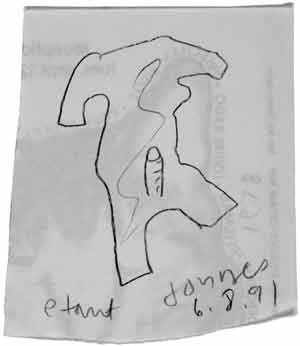 Fig. 4.23
Ray Johnson (American, 1927-1995)
Étant donnés, 1991
Graphite on paper, c. 14 × 10.8 cm
Collection of William S. Wilson, New York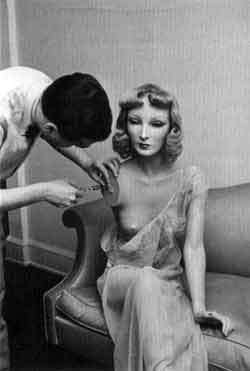 Fig. 4.24a
Alfred Eisenstaedt (American, 1898-1995)
Cynthia and Lester Gaba, published in Life, December 1937
Gaba repairs the mannequin's arm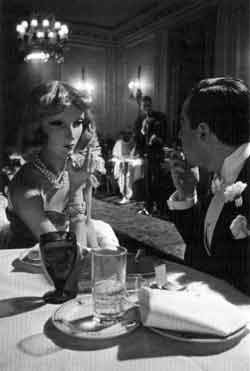 Fig. 4.24a
Alfred Eisenstaedt (American, 1898-1995)
Cynthia and Lester Gaba, published in Life, December 1937
Gaba and Cynthia dine at the Marguery, a New York restaurant
---- Fabricated by Lester Gaba, a mannequin artist, window dresser, and painter, Cynthia was "a tall, statuesque blonde" with high cheekbones and a "brittle charm," who accompanied her creator to chic Manhattan parties and smart nightclubs like El Morocco.[95] The Life article was illustrated with Alfred Eisenstaedt's extraordinary photographs of the elegant, fashionably attired Cynthia "gadding about on a typical round of cafe society activities"[96]: drinking champagne cocktails at the Stork Club, enjoying a dessert macedoine at the Marguery, and admiring the actress Constance Cummings in a performance of Madame Bovary from a box at the Broadhurst Theater, despite the fact that "dallying over dinner made her miss the first act."[97] The article clearly was intended as a promotional vehicle for Gaba's growing business of constructing realistic mannequins—dubbed the "Gaba Girls" by the press—which the artist had claimed would look "as much as possible like real girls (and twice as natural!)."[98]
---- The uncanny sight of a lifelike display-window mannequin hobnobbing in various glamorous New York hot spots cannot but recall Oskar Kokoschka's doppelganger of Alma Mahler (see FIG. 1.25) as well as Hans Bellmer's abject dolls (see FIG. 1.22), especially when Gaba dismantles his one-hundred-pound mannequin into seven detachable parts, which he then carefully stores in black sateen containers.[99] But for Ray Johnson, Cynthia was indelibly linked with Duchamp's Étant donnés mannequin, as the artist explained in 1987: "My Étant donnés lady hasn't had a name. I don't think the mysterious Duchamp even gave her a name but perhaps she should be referred to as the lover of Archimedes, or Cynthia? Poor Mr. Gaba, having to get my phone call."[100] Johnson had tried to contact the mannequin artist in the hope of finding out what had happened to Cynthia, but the eighty-year-old Gaba, who was suffering from colon cancer, would pass away that year without divulging the fate of his favorite mannequin. After Gaba's death, Johnson mused again, "I wonder where Cynthia is now?"[101]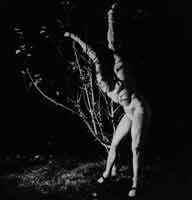 FIG. 1.22
Hans Bellmer
La Poupée (The Doll)
Gelatin silver print on stretcher, 66×66 cm
Ubu Gallery, New York, and Galerie Berinson, Berlin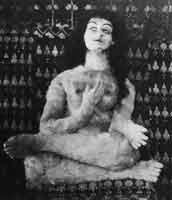 FIG. 1.25
Alma Mahler doll made by Hermine Moos for Oscar Kokoschka, c. 1919-22
---- Johnson's reference to Archimedes' lover alludes to a collage he had made in 1987, in which the Étant donnés mannequin is identified as Cynthia by a pointing arrow and the inscription "Cynthia Off to El Morocco Night Club," which runs along the bottom and right-hand edges of the paper (see fig. 4.25). The upended body is penetrated by a large screw in an obvious sexual metaphor that also refers to the ingenious mechanical device, invented in the third century BCE by Archimedes of Syracuse, to raise water from a lower to a higher level by means of the twisting motion of a broad-threaded screw inside a hollow pipe or cylinder. The collage features an eighteenth-century print entitled Improved Archimedes Screw from before 1712 AD, in which the screw is turned manually by means of a wheel-like mechanism operated by a worker below who pulls a rope. On top of the mannequin's left thigh, Johnson placed a black button, a variant of a design he had made earlier for the Tender Buttons shop in New York. The juxtaposition of the screw's male operator and the upside-down Étant donnés mannequin, as well as the architectural framework that separates them, recall Albrecht Dürer's woodcut entitled Artist and Model, which depicts a demonstration of perspective that by the late 1970s scholars had begun to compare to the viewing apparatus of Duchamp's tableau-environment (fig. 4.26).[102] Thus, in Johnson's collage, Duchamp's mannequin is literally and figuratively screwed, first by the pumping helical blades of Archimedes' phallic mechanical device, and second by the gaze of the male worker, whose control of the rope determines the velocity of her machine-lover's penetration.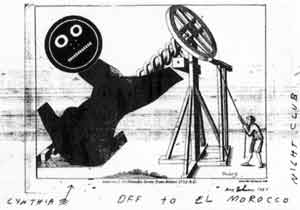 Fig. 4.25
Ray Johnson (American, 1927-1995)
Cynthia off to El Morocco Night Club, published in Lightworks, 2000.



Fig. 4.26
Albrecht Dürer (German, 1471-1528)
Artist and Model.
Woodcut from Unterweysung der Messung (Treatise on Perspective), Nuremberg, 1527
---- Johnson had long admired Duchamp's risqué puns and quixotic word games, as well as the sense of gender indeterminacy invoked by his salacious feminine alter ego, Rrose Sélavy, and he made frequent references to the work of the French artist in many of his obsessive collages of the 1960s and 1970s, which juxtapose fragmented images with text and typography to create hermetic allusions to Duchamp's life and work. Both artists, as art dealer Muffet Jones has remarked, "inhabited the cultural borderline where play, art, gender, and subjectivity become interchangeable,"[103] and it therefore comes as no surprise that Johnson responded enthusiastically to Étant donnés when it was posthumously unveiled in 1969.Two years later, he publicly announced his allegiance to Duchamp through the formation of the Marcel Duchamp Fan Club as a subgroup of his New York Correspondence School (the latter was an official-sounding name that he coined to describe his mail-art activities). On his frequent visits to the Philadelphia Museum of Art, Johnson made a point of seeing Étant donnés, although he once complained to a friend about the size of the peepholes in the weather-beaten Spanish door, which were too small for his tongue to fully fit through.[104] Johnson's efforts to extend the erotic possibilities of Duchamp's work echo those of Ana Mendieta, as recorded in her film Door Piece of 1973, made the same year as Duchamp's landmark retrospective exhibition at the Philadelphia Museum of Art. In her short Super 8 film, the camera slowly approaches a door whose glass panel has been painted out in black, leaving only a small hole at the center. When the camera finally reaches the opening, Mendieta "rewards our curiosity," as the curator Chrissie Iles insightfully noted, "by showing her mouth close-up, her tongue lasciviously licking the glass,"[105] a gesture whose craving echoes that of the viewer longing for more than the scene allowed by the eyeholes in the wooden door of Étant donnés. Like Johnson's failed attempts to poke his tongue through the peepholes, as if to lick and taste the pulsating diorama contained within, Mendieta's film suggests that the sense of vision alone is not enough to fully experience Duchamp's diorama, which requires other, tactile approaches.
---- The flyer for the first meeting of Johnson's Marcel Duchamp Fan Club—which was held on April 23, 1971, at the Church of the Holy Trinity at 341 East Eighty-seventh Street on New York's Upper East Side—invoked the nude mannequin of the Étant donnés assemblage through a drawing based on the sculpture entitled Girl Table (1969) by British Pop artist Allen Jones. Johnson's interest in voyeurism and sexual fetishism drew him not only to Duchamp's final work, but also to Jones's notorious piece, which combined a naked blow-up doll wearing black stiletto boots with a piece of mass-produced domestic furniture. In Johnson's flyer, the mannequin—bent over on all fours and supporting Mickey Mouse on her back—announces that the Pop diva Ultra Violet will play the role of Teeny Duchamp in the fan club. The two belles were linked in Johnson's fertile imagination after Andy Warhol biographer David Bourdon had invited Johnson, Teeny, and Ultra Violet to a dinner party in 1969.[106] It was probably shortly after the first meeting of the Marcel Duchamp Fan Club that Johnson began the first of his series of works based on Étant donnés, developing a theme that would preoccupy him for two decades, a time period commensurate with Duchamp's work on his own clandestine project. Following his standard practice of using the postal service as an artistic vehicle, Johnson began sending various Duchamp-related dispatches to Anne d'Harnoncourt in 1973, the year she co-organized the large Duchamp retrospective that opened in Philadelphia and later traveled to New York and Chicago. On the night of the exhibition opening, Johnson traveled to the Museum but, true to his reclusive nature, never left the parking lot, instead spending the evening spying on the other invited guests while maintaining a safe distance.[107] Over the next twenty years, d'Harnoncourt filed away the increasing barrage of cryptic letters, scatological drawings, and lusciously textured collages she received from him, thus preserving for posterity these transitory missives, including numerous works of art in which he made a wide range of witty allusions to Étant donnés.
---- The unsolicited mailings continued until Johnson's death on January 13, 1995, by which time d'Harnoncourt had been named the Director of the Philadelphia Museum of Art. During the interim, she had realized, through their mutual friend John Cage, that the "curious, Duchampian fellow"[108] who was relentless in his correspondence was the same eccentric yet highly respected underground artist whose important collage entitled Yves Tanguy's Fingernails had entered the Museum's collection with her enthusiastic approval in 1975.[109] In 1987, d'Harnoncourt arranged for a show of twenty-five of Johnson's Duchamp-related "giveaways" at the Print Club in Philadelphia as part of the citywide effort to commemorate the one-hundredth anniversary of Duchamp's birth through exhibitions, lectures, symposia, film screenings, and performances.[110] The public display of Johnson's work helped to situate him as a crucial figure in the post–World War II dissemination of Duchamp's art and ideas, alongside cultural luminaries such as John Cage, Merce Cunningham, and Jasper Johns, who also participated in the centenary celebrations.
---- Although the exact circumstances of the initial contact between Johnson and Duchamp may never be known, the two artists probably first met in New York in the early 1960s through Richard Lippold, an American sculptor who had been Johnson's close friend and lover since Johnson's student days at Black Mountain College in the 1940s. As Johnson no doubt was aware, Duchamp's act of sending typewritten postcards and other quixotic forms of postal communication to his New York patrons Louise and Walter Arensberg—seen in works like Rendez-vous du dimanche, 6 février 1916—had long been hailed as an important forerunner of mail art (fig. 4.27).[111] Johnson also took inspiration from what the curator Mason Klein has described as the older artist's "punning, homophonic, and alliterative procedures,"[112] as well as his defiant anticommercialism and interest in polymorphous identities. By the mid-1960s, Johnson had begun to incorporate cumulative references to Duchamp's work into his witty, inventive, and often highly finished collages; several were shown at his 1967 solo exhibition—aptly entitled Duchamp Combs in reference to the artist's 1916 readymade—at the Willard Gallery in New York. By the 1970s, Johnson's efforts to "comb" through Duchamp's oeuvre for source material had resulted in a large number of works that feature myriad allusions to the earlier artist's output, especially Fountain (1917), Tonsure (1919), and Self-Portrait in Profile (1957), the latter made from paper that was torn along the edge of a metal template and signed "Marcel déchiravit" (which can be translated loosely as "Marcel torn up").[113] The French reference to torn papers would have been of special interest to Johnson, whose dedication to the medium of collage had led him to describe his work as "Chop Art," in opposition to the Pop and Op movements of the 1960s.[114]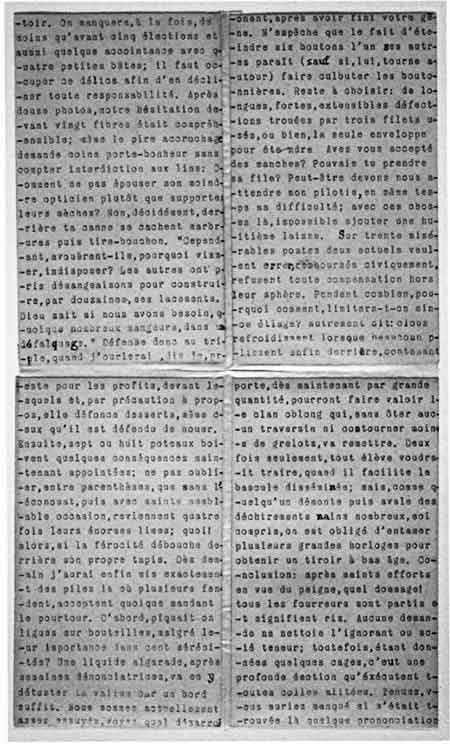 Fig. 4.27
Marcel Duchamp
Rendez-vous du dimanche, 6 février 1916 (Rendezvous of Sunday, February 6), 1916
Typescript with black ink corrections on four postcards raped rogether, 28.6 × 14.4 cm
Philadelphia Museum of Art. The Louise and Walter Arensberg Collection, 1950-134-983
---- At some point, Johnson sent Duchamp the image of a woman with lustrous black hair fixed into a "Marcel wave" (fig. 4.28), which he had found in an advertisement for the "durable and sanitary" Solo Draw-String Hair Net. The original blue-tinted advertisement promised that the hairnet, appropriately made of rayon, would make an "an excellent sleeping cap" to protect the Marcel wave, a popular hairstyle for women in the 1920s.[115] Johnson's rectified readymade no doubt was inspired by Duchamp's own rectified readymade entitled Apolinère Enameled (1916-17; fig. 4.29), which similarly modified an existing commercial sign for Sapolin Enamel paint as a humorous homage to his close friend, the poet and critic Guillaume Apollinaire.[116]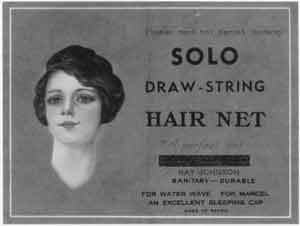 Fig. 4.28
Ray Johnson
Solo Hair Net for Marcel Duchamp
Rectified readymade, 12.7 × 16.8 cm
Private collection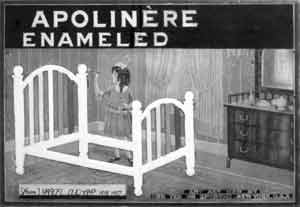 Fig. 4.29
Marcel Duchamp
Apolinère Enameled, 1916-17
Gouache and graphite on painted tin, mounted on cardboard, 24.4 × 34 cm
Philadelphia Museum of Art. The Louise and Walter Arensberg Collection, 1950-134-73
---- Johnson's series of collages and drawings related to Étant donnés is characterized by an arcane and self-reflexive symbolism, often derived from events and personages in his life and denoting a heated homoeroticism together with an underlying tone of black humor. Without access to Duchamp's unpublished letters to Maria Martins, Johnson had no way of knowing that the earlier artist had called his mannequin "my woman with the open pussy" or "Our Lady of Desires," but one can safely assume that these designations, with their overtones of eroticism and blasphemy, would have intrigued and amused Johnson.
---- The series includes more than 150 collages and drawings, and showcases the artist's innate flair for paradox and provocation as he mixes and incongruously matches images through bizarre, poetic, and often ravishingly beautiful juxtapositions. In Anne d'Harnoncourt Viewing Étant donnés (see fig. 4.31), which Johnson sent to the Philadelphia Museum of Art in 1991, the Museum Director's profile can be discerned between the repeated and conjoined torsos of Duchamp's camouflaged mannequin, while above her head floats the logo of the Cock Bar in Madrid, which since the mid-1960s had supplied Johnson with his favorite brand of safetymatches.[117]
---- With the reckless insouciance of a schoolboy drawing pornographic fantasies on a lavatory wall, Johnson depicted d'Harnoncourt looking at the female genitalia of Duchamp's splayed mannequin, while the thought-bubble above her head tells us that she is thinking of cock. This form of low comedy should not obscure Johnson's carefully constructed and conceived work, which, like Duchamp's before him, demands close attention and sustained viewing. For example, the black-and-white gridlike pattern on the Étant donnés torsos that Johnson appropriated can be linked not only to Duchamp's dedication to chess, but also to the checkered design of the cloche hat worn by Rrose Sélavy in Man Ray's celebrated photographs of Duchamp in drag, from the early 1920s (see fig. 4.30).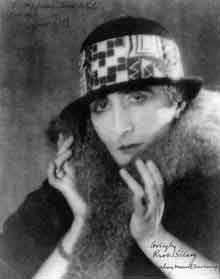 Fig. 4.30
Man Ray
Marcel Duchamp as Rrose Sélavy, ca. 1920-21
Gelatin silver print, image and sheet, 21.6 × 17.3 cm
Philadelphia Museum of Art. The Samuel S. White 3rd and Vera White Collection, 1957-49-1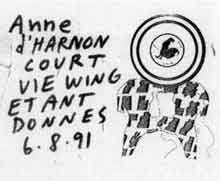 Fig. 4.31
Ray Johnson
Anne d'Harnoncourt Viewing Étant donnés, 1991
Photocopy and ink on paper, 21.6 × 27.9 cm
Collection of William S. Wilson, New York
---- Johnson's allusions to the artist's alter ego may explain why he consistently viewed the gender of the mannequin as male, rather than female. Numerous collages in the series were accompanied by letters that began "Dear Etan," lending the previously anonymous nude a masculine name and identity. It took Johnson's elasticity of mind to connect the title of Duchamp's final masterwork with the name of Etan Patz, a six-year-old child who disappeared in lower Manhattan in 1979. Etan's body was never found, but he almost certainly was abducted and murdered. Johnson's letters to a boy who will never read them have the same hopelessly futile and agonizingly forlorn quality that accompanied his inquiries into the fate of Cynthia, the glitzy, giddy mannequin-companion of Lester Gaba.[118]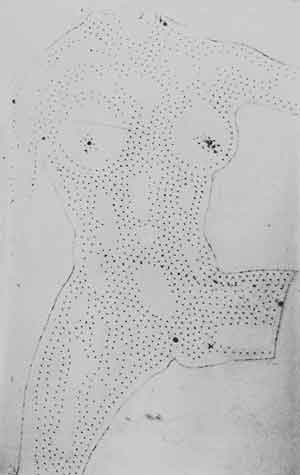 P 18
Marcel Duchamp
Preparatory study for the figure in
Étant donnés: 1° la chute d΄eau, 2° le gaz d΄éclairage, c. 1950
Gouache on transparent perforated Plexiglas, 91,4 × 55,9 cm
Private collection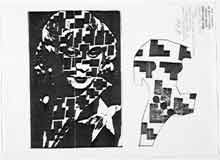 Fig. 4.32
Ray Johnson
Mae West Viewing Étant donnés, 1992
Photocopy and ink on paper, 21.6 × 27.9 cm
Philadelphia Museum of Art, Archives, Anne d'Harnoncourt Records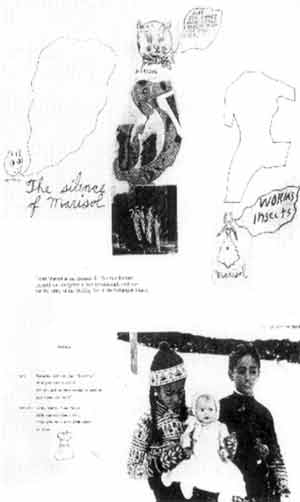 Fig. 4.33
Ray Johnson
"The Silence of Marisol," from "Abandoned Chickens,"
published in Art in America, November-December 1974
---- The contoured outline of Duchamp's recumbent nude, taken from a preparatory study on transparent Plexiglas in which the artist delineated the figure in gouache and perforated it with dozens of pinholes (P 18), provided Johnson with a template that could be continuously assembled and disassembled, fragmented and silhouetted, flipped and altered in cryptic configurations that hint at a multitude of plausible meanings and unexpected encounters. His use of Duchamp's figure can be seen in the camouflaged image of Mae West Viewing Étant donnés (fig. 4.32), which Johnson sent to d'Harnoncourt in 1992 via Clive Phillpot-at that time the director of the library at the Museum of Modern Art in New York—and which also references Duchamp's star-shaped tonsure haircut of 1919. In direct contrast to the complex, gridlike patterning used in this work, and to others in which the figure of the mannequin is tattooed with spirals or almost obliterated by the mechanism of a clock face, Johnson used simply an outlined image of the Étant donnés torso to illustrate his legendary" Abandoned Chickens" article, published in Art in America in 1974 (fig. 4.33).[119] In a section entitled "The Silence of Marisol"—a reference to the German artist Joseph Beuys's famous declaration, "Das Schweigen von Marcel Duchamp wird überbewertet" (The silence of Marcel Duchamp is overrated)—which Johnson devoted to the Paris-born Venezuelan Pop artist Marisol Escobar, the contoured outline of Duchamp's mannequin is displayed alongside words and images related to her imagined childhood, such as dolls, dresses, and a kitten with a bow. However, the cat's speech-bubble commands, "Play sex games, draw little women, make kiss each other," conjuring a naughty and erotic undercurrent to the make-believe games of children and perhaps explaining the presence of Duchamp's "doll" within this seemingly innocent environment.
---- Additional works in Johnson's Étant donnés series find new applications for the open-legged nude, as in a drawing for the Paloma Picasso Fan Club, where the mannequin's vagina is used to heat hot dogs, a food that was the focus of another of the artist's long-term obsessions.[120] This drawing dates to the time of the artist's 1991 retrospective, entitled More Works by Ray Johnson, 1951-1991, which was held at the Goldie Paley Gallery, Moore College of Art and Design, in Philadelphia.[121] However, the success of the exhibition was almost overshadowed when the American mail artist Buster Cleveland (pseudonym of James Trenholm), inspired by Johnson's subversive works of art, removed the object label for Étant donnés from the Duchamp room at the Philadelphia Museum of Art and sent it to him as an homage. On November 29, 1991, Johnson telephoned Anne d'Harnoncourt to notify her that he had received the label in the post, which he immediately returned to the Museum. Although Cleveland's unsolicited act on Johnson's behalf spoke to his powerful identification with Duchamp's final masterwork, Johnson was clearly distressed at the label's removal and wanted to ensure that the Museum knew he had nothing to do with the theft—which d'Harnoncourt lightheartedly dismissed as just "another Duchampian caper."[122]
---- During the preparations for his retrospective, Johnson was inspired by the proximity of his works to the Duchamp room at the Museum, and produced a number of works related to Étant donnés, including designs for The Étant donnés T-Shirt—in which Duchamp's mannequin sports a white shirt bearing a Lucky Strike logo-and a drawing in which the mannequin appeared as if wrapped by Christo. This work also makes reference to Wilt Chamberlain, the legendary basketball star of the Philadelphia 76ers, thus confirming that the City of Brotherly Love was very much on his mind during the run of his exhibition. Finally, perhaps only Johnson, with his keen eye and encyclopedic knowledge of the history of art, would have noticed the resemblance between Duchamp's perforated nude and the bound and pierced torso of Saint Sebastian, as manifested in his 1992 collage Untitled (Étant with St. Sebastian) (see fig. 4.34), which pairs the mannequin and Sodoma's 1525 painting. This juxtaposition again underscores Johnson's ability to produce an explicitly homoerotic reading of Duchamp's secret final work, a reading that was prefigured by the French artist's earlier interest in cross-dressing and gender ambiguity. Johnson also places the mannequin's torso in a shallow, theater-box space with drawn curtains, thus referencing the final enclosed architectural arrangement in Philadelphia, while the bucolic landscape seen in the background of Sodoma's painting also resonates with Duchamp's autumnal backdrop.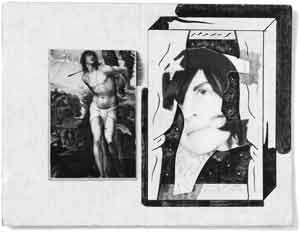 Fig. 4.34
Ray Johnson
Untitled (Étant with St. Sebastian), 1992
Collage on corrugated cardboard, 21.6 x 28.4 cm
Richard L. Feigen & Co., New York
---- Although each of Johnson's collages and drawings stands as a work of art in its own right, the series is best seen as a cumulative effort in which the image of Duchamp's nude is reconfigured, assigned, and reassigned in a complex chain of associations, permutations, and metamorphoses. As if to underscore the ontological instability of all sexual identities, Johnson's Étant donnés figure is in a constant state of transition and transformation that corresponds to Russian literary theorist Mikhail Bakhtin's arguments about the grotesque image of the body in his book Rabelais and His World, which was first published in 1965. In this seminal study, Bakhtin examined the folk culture of the European vernacular carnival tradition to reveal the point at which the rigid hierarchy of the state and church was ritually challenged by the riotous, bawdy, and exuberant voices of "the people." Within this process of inversion, which Bakhtin identified as the "carnivalesque," the grotesque body is always shown "in the act of becoming. It is never finished, never completed; it is continually built, created, and builds and creates another body."[123] Johnson's shifting and evolving gestalts of Étant donnés likewise embody the carnivalesque, merging the grotesque with the bestial. They never attempt to interpret or translate Duchamp's diorama, nor do they primarily start from the principle of equivalence, but instead tap into the momentum and vitality of his subversive final work, which is conceived anew, rejuvenated, and regenerated at the same time.
CONCLUSION
Forty years after the public unveiling of Étant donnés, Duchamp's subversive and enigmatic sculpture-construction continues to offer an unforgettable and untranslatable experience to those who look through the two small holes in the old wooden door, with the proviso that in doing so they will never view another work of art in quite the same way again. Long considered to be one of the first examples of site-specific installation art, Duchamp's once-secret environmental sculpture construction internalizes and subverts the single viewing point of linear perspective, as Jean–François Lyotard has shown. However, as art historian T.J. Demos has argued, Lyotard's reading depends on a conceptualization of vision as monocular, whereas Duchamp's phantasmatic interior is actually viewed through twin holes in the Spanish door.[124] The fact that the artist used a bifocal viewing apparatus does not invalidate the French philosopher's theory that Duchamp mimicked and critically deconstructed notions of classical, one-point perspective, but instead suggests that the artist's binocular illusion also incorporated technological advances made in the nineteenth century, when the stereoscope encouraged a new understanding of vision and perception.
---- This scholarly examination of Duchamp's multimedia tableau-construction, together with a wealth of previously unpublished material, including drawings, photographs, and letters, reveals Étant donnés to be a remarkable, complex, and highly ambitious work of art, whose singular importance in the history of art and ideas can now be understood more fully. It is hoped that the research presented here on the work's genesis, construction, installation, and reception, combined with extensive scientific analysis of the work's materials, will remove Étant donnés from the realms of myth, fanciful exaggeration, and factual inaccuracies that have hindered our understanding of Duchamp's final masterwork since it first went on view in July 1969. Although previously regarded as the most recalcitrant and least decipherable of Duchamp's works, the liberating, open-ended meanings and the erotic opticality inherent in this environmental assemblage are, in fact, what allow it to say so much to contemporary viewers—especially in the wake of artists such as Hannah Wilke, Robert Gober, Marcel Dzama, and Ray Johnson. They are among those who have expanded on Duchamp's ideas in their own work, similarly engaging with notions of the body, gender, and eroticism, as .well as vision and perception, in sculptures, photographs, collages, drawings, and interactive multimedia works. Nearly half a century after its public unveiling, Duchamp's sculpture-construction has never looked so young, and now a new generation of viewers—as well as those long familiar with the work—has the opportunity to see Étant donnés in a new light.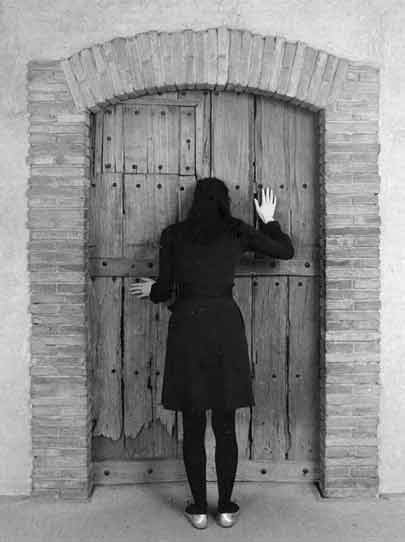 Fig. 4.35
Exterior ofÉtant donnés, 1991
* Taylor, Michael R.; Marcel Duchamp: Étant donnés, Philadelphia Museum of Art & Yale University Press, 2009, pp. 214-223, pp. 223-227. (Published on the occasion of an exhibition held at the Philadelphia Museum of Art, Aug. 15 - Nov. 1, 2009)
© 2009 Philadelphia Museum of Art
---
Notes:
[94] See Charlton Burch, "Dedicated to Cynthia and the Memory of Ray," in "The Ray Johnson Issue," Lightworks (Birmingham, MI), no. 22 (2000), p. 4.
[95] "Life Goes to a Party with a New York Café Socialite Named Cynthia," Life, vol. 3, no. 24 (December 13, 1937), p. 84.
[96] Ibid.
[97] Ibid., p. 85.
[98] "Gaba Girls," Advertising Arts, November 1933, p. 30. For more on the implications for mannequin design of Gabas innovative use of realism in the creation of the celebrated Cynthia mannequin and other Gaba Girls, see Sara K. Schneider, "Body Design, Variable Realisms: The Case of Female Fashion Mannequins," Design Issues, vol. 13, no. 3 (Fall 1997), p. 8.
[99] See "Life Goes to a Party," p. 87.
[100] Ray Johnson, letter to Charlton Burch, May 26, 1987, quoted in Burch, "Dedicated to Cynthia and the Memory of Ray," p. 4.
[101] Ibid.
[102] See, for example, Jean Clair, "Duchamp and the Classical Perspectivists," Artforum, vol. 16, no. 7 (March 1978), pp. 40-49.
[103] Muffet Jones, "Inhabiting the Borderline: The Abject in the Work and Correspondence of Ray Johnson and May Wilson," in Michael Morris and Sharla Sava, eds., Ray Johnson: How Sad I Am Today, exh. cat. (Vancouver: Morris and Helen Belkin Art Gallery, University of British Columbia, 1999), p. 37.
[104] I am grateful to Johnson's friend, Mark Bloch, for sharing this anecdote with me; Bloch, letter to the author, January 2, 2009.
[105] Chrissie lies, "Subtle Bodies: The Invisible Films of Ana Mendieta," in Olga M. Viso, ed., Ana Mendieta: Earth Body; Sculpture and Performance, 1972-1985, exh. cat. (Washington, DC: Hirshhorn Museum and Sculpture Garden, Smithsonian Institution; Ostfildern-Ruit, Germany: Hatje Cantz, 2004), p. 208.
[106] See David Bourdon, "Cosmic Ray: An Open Letter to the Founder of the New York Correspondence School," Art in America, vol. 83, no. 10 (October 1995), p. 110.
[107] Anne d'Harnoncourt, interview with the author, Philadelphia, June 28, 2007.
[108] Anne d'Harnoncourt, internal memorandum to Mark Rosenthal, Curator of Twentieth-Century Art, Philadelphia Museum of Art, May 2, 1987, Philadelphia Museum of Art, Archives, Anne d'Harnoncourt Records (hereafter AdH Records). D'Harnoncourt's memo reveals that Ray Johnson had called her to make an appointment in June 1987 to show her his latest work on the Étant donnés series.
[109] Anne d'Harnoncourt, interview with the author, Philadelphia, June 28, 2007. The Museum's acquisition of Yves Tanguys Fingernails was followed twenty years later by the purchase of the artist's print from the SMS2 portfolio, entitled A Two Year-Old Girl Choked to Death Today on an Easter Egg, thus confirming d'Harnoncourt's sustained interest in Johnson's work.
[110] The exhibition, entitled Ray Johnson: Prints after "Étant [sic] Donnés," was on view at the Print Club, 1614 Latimer Street, Philadelphia, September 8-0ctober 23, 1987. Until now, this show has remained something of a mystery to Johnson scholars, partly because no catalogue was produced but, more importantly, because the artist was not known as a printmaker. However, the "prints" in the exhibition's title refer to Johnson's "Giveaways," in which earlier images were printed and often amended through photocopies and offset lithography. The show included images inspired by Duchamp's tableau-construction and other giveaways made in 1987, such as Anna May Wong Giveaway, Mondrian Giveaway, and Marcel Iron Giveaway; Historical Society of Pennsylvania, Print Club (Philadelphia), Box 3/1996, (Phi)2065, Archives, 1915-1985.
[111] See John Held, Jr., Mail Art: An Annotated Bibliography (Metuchen, NJ: Scarecrow, 1991), p. xvi.
[112] Mason Klein, "'To Be Sad, Because I Was Once a Child': The Collages of Ray Johnson," in Donna De Salvo and Catherine Gudis, eds., Ray Johnson: Correspondences, exh. cat. (Columbus: Wexner Center for the Arts, Ohio State University, 1999), p. 56.
[113] Johnson's interest in Duchamp's formal devices and conceptual strategies, as well as the major works in his oeuvre from which Johnson drew inspiration, have been documented in Kate Erin Dempsey, Ray Johnson in Correspondence with Marcel Duchamp, master's thesis, University of Texas at Austin, 2006.
[114] William S. Wilson, interview with the author, New York, December 10, 2007.
[115] Johnson's rectified readymade also recalls a passage in Louis Aragon's 1926 prose novel, Le Paysan de Paris (The Paris Peasant), which is devoted to a ladies' hairdressing salon and includes a similar reference to the Marcel wave as a direct homage to Duchamp: "One day in the Passage de l'Opéra, I found myself contemplating the pure, lazy coils of a python of blondness .... I had been slowly dying there for the past fifteen minutes or so. It seemed to me that I could willingly have spent my whole life near this swarm of wasps, near this river of glimmers. In this underwater world, the imagination is haunted by those film heroines who, in search of a lost ring, encase all their American pearliness in a diving suit. This unfurled hair had the electric pallor of storms, the cloudiness of breath upon metal ... The dead hair suddenly took on a port-wine glint: the hairdresser was beginning the Marcel waving"; Aragon, Paris Peasant, trans. Simon Watson Taylor (Boston: Exact Change, 1994), pp. 39-40.
[116] Having already suffered a serious head wound while serving in the French Army during World War I, Apollinaire died of Spanish influenza in November 1918, just two days before the armistice was signed to end the global conflict. Duchamp probably was intending to bring Apolinère Enameled with him to Paris, once the war had ended, as a gift to the poet and critic.
[117] See William S. Wilson, "With Ray: The Art of Friendship," Black Mountain College Dossiers, no. 4 (Black Mountain, NC: Black Mountain College Museum and Art Center, 1997), p. 47. As Wilson points out, these matchsticks also were used by Johnson "as a way of commenting on an art which made matches among images"; ibid.
[118] Johnson had earlier connected the Étant donnés mannequin with that of Jeane Saine Sain, a forty-three-year old woman from Syracuse, New York, whose burned body was discovered on October 18, 1973, by a meter reader on his rounds. In an undated collage, almost certainly made in 1973, Johnson wrote the name "Jeane Saine Sain" across the upper torso of the mannequin, and placed next to the body a carefully cut-out New York Times article on the murder. The fact that this newspaper article, which was published on October 20, 1973, coincided with the Duchamp retrospective exhibition at the Philadelphia Museum of Art underlines Johnson's agility in connecting real-world events with art works that he admired.
[119] Ray Johnson, "Abandoned Chickens," Art in America, vol. 62, no. 6 (November-December 1974), pp. 107-12.
[120] In 1969, hot dogs famously supplied the ingredients for Johnson's submission to the Seventh Avant-Garde Festival on Ward's Island in New York's East River, where he dropped sixty foot-long frankfurters from a helicopter over the festival site.
[121] The exhibition was organized by Phyllis Stigliano and Janice Parente and was on view from November 1 through December 15, 1991.
[122] Anne d'Harnoncourt, internal memorandum to Ann Temkin and Marge Kline, November 29, 1991, AdH Records.
[123] Mikhail Bakhtin, Rabelais and His World, trans. Helene Iswolsky (Cambridge, MA: MIT Press, 1968), p. 317.
[124] See T. J. Demos, "Seeing Double," in Penelope Haralambidou, ed., The Blossoming of Perspective, pp. 9-11, exh. cat. (London: Domo Baal Gallery, 2007).
---
Ray Johnson and Cynthia Mannequin (Étant donnés)